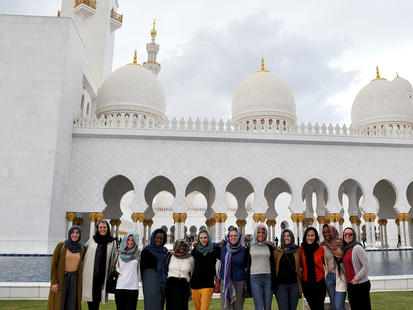 Scholarships
MBA - Tuition and Financial Aid - Scholarships - Darden Worldwide Scholarship Program
Darden Worldwide Scholarship Program
Darden wants every full-time MBA student to have the opportunity to participate in a global academic experience. With the Batten Foundation Darden Worldwide Scholarship program, this vision is a reality. The program is possible thanks to a generous $15 million gift from the Batten Foundation matched by $15 million from the UVA Bicentennial Scholars Fund.
Students who matriculated after August 2018 in the full-time MBA program may take one Darden Worldwide Course and receive a scholarship covering the program fee. Students will be responsible for their airfare to and from the course location, visas, and some meals and other incidental expenses. If a student chooses to delay participation in a global course until their second year, they may choose to utilize the Batten Worldwide Scholarship to cover out of pocket expenses associated with travel for an exchange program or Global Client Project onsite visit. A second year student who did not participate in a DWC during their FY, may also apply their Batten Worldwide Scholarship to a second year DWC. With this scholarship, students are encouraged to choose from a wide variety of rich academic experiences across the globe. Pending space availability, students are able to enroll in multiple Darden Worldwide Courses while attending the Darden School, but will be responsible for paying the program fees associated with courses beyond their first course out of pocket. 
Note: Recipients of other scholarships and/or corporate sponsorships that fully cover a Darden Worldwide Course fee will not be eligible to receive the Batten Darden Worldwide Scholarship. Recipients of other scholarships and/or corporate sponsorships that only partially cover a Darden Worldwide Course fee will be eligible to receive a Batten Darden Worldwide Scholarship in the amount that makes up the difference between what their other scholarship/sponsorship covers and the total course fee.