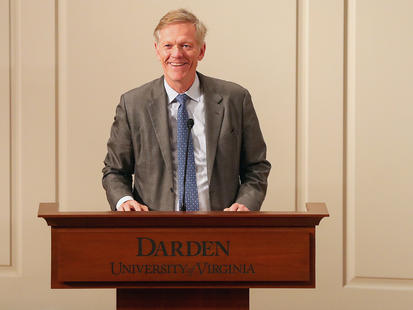 About Darden
About Darden - Leadership
Darden Leadership
The Darden School oversees all academic activities, including degree programs and non-degree executive programs. The Darden School Foundation is a non-profit organization that supports the School and its academic mission.
Welcome From Dean Scott C. Beardsley
I am honored and grateful to serve the University of Virginia Darden School of Business as its ninth dean.
Darden provides the world's best educational experience, bar none, and I can't think of any place I would rather be.
I love the School's mission: "The University of Virginia Darden School of Business improves the world by inspiring responsible leaders through unparalleled transformational learning experiences."
I joined the School — after a 26-year career as a senior partner with McKinsey & Company — to pursue my calling: to help outstanding people and organizations achieve their full potential. 
There are many reasons why I was drawn to Darden, and why you should be, too. Here are a few of them:
Academic excellence. A depth of learning happens at Darden that does not happen anywhere else.
Unparalleled impact. Our faculty — recognized as the best in the world — creates a variety of transformational learning experiences to accelerate personal development, deliver outstanding career opportunities and improve company performance.
Vibrant networks. We have one of the most dynamic, passionate, successful and engaged networks and academic communities on the planet.
A wonderful, fun community. From First Coffee, to an incredible food and music scene, to UVA national championship sports teams and facilities, to global experiential learning, to close connections with Washington, D.C.: Darden students live life fully!
Responsible, entrepreneurial, global leaders. Our graduates are agile decision-makers. They are lifelong learners. They have what it takes to lead today — and in 2050.
Preeminence. The University of Virginia is one of the world's great research universities, connecting business to technology, medicine, law, sciences, education and policy.
Leading-edge thinking. Darden's research and thinking in areas such as business in society, ethics, and entrepreneurship and innovation set the bar; the knowledge developed by the faculty improves the world and the practice of management.
Jeffersonian excellence. Thomas Jefferson, founder and architect of UVA, in 1819 set a standard for global excellence that Darden continues today.
We invite you to learn about our community — including Darden's 18,000 alumni in 90 countries — and our programs. They will take you and your organization to the next level.
Now is the time to achieve your full potential.