Connect
MBA - Connect - Visit Darden
Visit Darden
At this time, we welcome all prospective students to (virtually) visit the University of Virginia Darden School of Business Grounds! When you attend a Darden event, you have the opportunity to talk to admissions representatives and meet members of our diverse student community.
Take a virtual tour or check out our Events & Receptions page to learn more about Darden events around the world. 
Prospective Executive MBA students can view additional options to connect.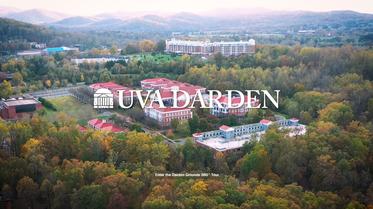 Talk a walk through Darden Grounds
Virtually visit us in Charlottesville with this self-guided tour. Take a look inside the classrooms, where learning truly comes to life with 70 of your closest colleagues. Explore the Grounds, visit the Career Center, check out important meeting places for students, staff, faculty and alumni like the South Lounge, PepsiCo Forum, Flagler Court and more.
Top Ways to Connect with UVA Darden