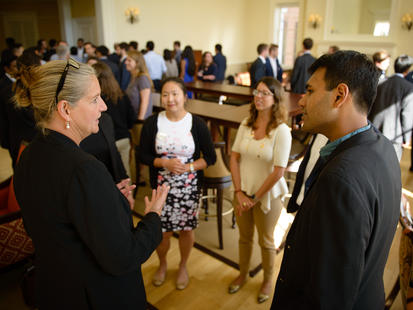 Recruiters & Career
Recruiters & Career - Recruit Darden Talent
Recruit Talent
Whether you are looking for a recent MBA graduate, a First Year intern, or a mid-career executive, Darden students embody the talent that your organization needs.
Darden Students Are:
Problem Solvers With a Bias for Action
Darden develops decision makers who are motivated to assess problems and take initiative in building solutions. This bias for action is ingrained in Darden's unscripted learning experience focusing on real-world business problems and solutions. Darden graduates are prepared to tackle difficult problems and they have the interpersonal and technical skills needed to implement successful solutions.

Collaborative Team Players With Strong Communication Skills
Darden graduates are recognized for their collaboration and teamwork — two skills that are central to the Darden experience. Students work together in learning teams to analyze more than 500 case studies under the guidance of world-renowned faculty. This method produces collaborative and decisive leaders who are able to communicate effectively, consistently inspire others and work well in a variety of teams.

Socially Conscious and Ethical Leaders
Darden's curriculum focuses heavily on business ethics, and students understand that purpose and profit can and should coexist. The Darden community places a tremendous emphasis on honor and personal integrity, and students are expected to hold themselves to this high standard every day.

High Aptitude Thinkers With a Global Perspective
Darden students excel in rigorous classroom-based discussion and are continually exposed to global business issues, whether through diverse classmates, case studies, international consulting projects, job treks, Darden Worldwide courses or partnerships with 24 international schools.
Access Darden Students' Resumes
Review Darden student resumes for both full-time and executive format students to find the talent that best fits your recruiting needs. A resume book is a great way to help you target your search and quickly identify high-potential candidates.
If you or your organization is interested in a resume book of seeking Darden students, please email recruiting@darden.virginia.edu.
While students consent for their resume to be released to recruiters, the information accessed is intended for the recruiters' use only. Please do not share this information outside of your organization.
Explore Recruiting at Darden