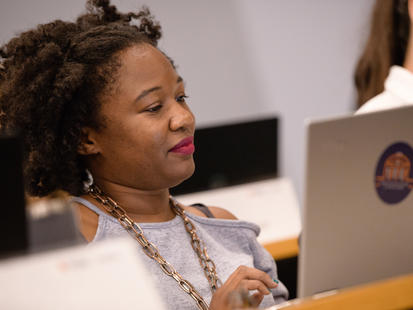 Academics
MBA - Academics - Concentrations
Concentrations
Finding Your Focus at Darden
Darden has long been recognized as a leading MBA program in general management (ranked No. 1 by Financial Times). The case study method and integrated core curriculum provide a thorough understanding of how all areas of a business impact one another.
But Darden students are not just strong managers and leaders — they are also expert specialists. Through electives, student shape their academic experience and hone their expertise through the wide-range of courses taught by amazing faculty. The management science specialization offers students the opportunity to enhance their quantitative and analytical focus. Concentrations provide additional guidance and structure, as well as providing a stronger signal to recruiters of students' focus.
---

Management Science Specialization
For students who want to add a quantitative/analytical focus to the general management curriculum at Darden, we offer a management science specialization. This requires that students earn 12 credits from a select group of electives. This specialization carries a STEM designation, giving international students in F-1 status who meet certain requirements the possibility of 36 months of work authorization in the U.S. after graduation.
---

The MBA concentrations are divided into career tracks and theme tracks. There are no limits on the number of concentrations a student may earn, as long as student is able to satisfy the academic requirements for each of the concentrations applied for. Note: Concentrations are not listed on the transcript, only the Management Science Specialization is listed on the transcript.
Career Track Concentrations
Theme Track Concentrations
Business Analytics

The Business Analytics concentration will prepare students to participate in organizations that make abundant use of data/quantitative/mathematical techniques ("data science") as part of the their business processes. We expect completion of this concentration to be a useful signal to potential employers of the analytic and quantitative abilities of the student.  

Faculty contact: Robert Carraway

Environment, Social and Governance

The ESG (Environment, Social, and Governance) Concentration prepares students to manage the complex society dynamics that impact business and to understand the critical issues facing multiple stakeholders. From impact investing to corporate sustainability to business-government relations, the ESG Concentration provides the essential skills for managing in today's business environment. This series of courses will provide insight into the challenges, methods, and best practices for creating value for business stakeholders. The concentration is well suited for students seeking diverse careers in general management, brand management, consulting, investing, technology, and entrepreneurship.

Faculty contact: Carolyn Miles