MBA - Admissions - Apply - Consortium
Consortium Application Process
The Consortium for Graduate Study in Management
The mission of the Consortium for Graduate Study in Management is to enhance diversity in business education and leadership by helping to reduce the serious underrepresentation of African Americans, Hispanic Americans and Native Americans in both our member schools' enrollment, and the ranks of management.
Darden is proud to be a member school of the Consortium. The value offered in an alliance with the Consortium aligns with Darden's mission to improve the world by developing and inspiring responsible leaders and by advancing knowledge. We believe that a diverse community helps broaden understanding and elevate performance. Responsible leaders understand this by helping to foster diversity in their organizations.
Consortium offers fellowships to Full-Time MBA students who demonstrate academic excellence and have committed themselves to promoting diversity in their community and/or workplace.
Learn More About Consortium & Darden Admissions
Meet Fabiana Diaz (She/Her/Hers)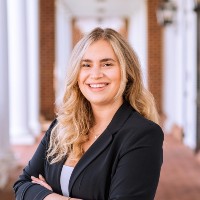 Hometown: Caracas, Venezuela
Undergrad Institution: University of Michigan – Ann Arbor
Undergrad Major: International Studies
Pre-MBA Industry/Functional Area: Education – Spanish Teacher
Areas of Career Interest: Consulting
Darden Clubs and/or Leadership Roles: DEI Rep for Section C, Graduate Women in Business VP of Community Development, Consulting Club, Hispanic American Network, Latin American Student Association
Why Darden? I chose Darden because I wanted to be challenged academically through the case study method and because of the opportunities I would be afforded by being at a school that was student-led.
What does the Consortium mean to you? A strong, diverse, and supportive community that I am consistently able to lean on especially as I transitioned to school and navigated both core and recruiting. The Consortium family (CFAM) is what has made Darden feel like home!
What does a Consortium Liaison do and what are you looking forward to most in this role? The Liaison role has two purposes:  
To promote the Consortium's mission through community building and awareness 
To support the incoming class as they transition into business school 
I'm most looking forward to being a mentor to the Consortium Class of 2025 and connecting with folks one-on-one as they navigate their MBA journey and transition to life at Darden. We will be here for you every step of the way! 
Meet Mark Williams-Sierra (He/Him/His)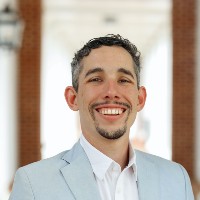 Hometown: San Juan, Puerto Rico
Undergrad Institution: George Washington University
Undergrad Major: International Affairs
Pre-MBA Industry/Functional Area: Education
Areas of Career Interest: Consulting
Darden Clubs and/or Leadership Roles: Darden Clubs and/or Leadership Roles: VP of Flight Operations for the Aviation club, Latin American Student Association, Outdoors Club, Wine & Cuisine Club.
Why Darden? When I first visited Darden and met my potential classmates, I knew I would be able to achieve my career goals there with a community that I loved. As I am wrapping up my first year, the program has prepared me with a strong academic business foundation, connected me with life-long friends (many from the Consortium), and helped me land my dream internship.
What does the Consortium mean to you? The Consortium is a community that champions the success of its members in spaces where they have historically been excluded. Business school is a transformative environment for all of us and it can be incredibly tedious at times. Having a group of individuals with similar backgrounds help you navigate those situations together is incredibly powerful and gives us all the best chance at success.
What is a Consortium Liaison and what are you looking forward to most in this role? A Consortium Liaison helps new members transition from their previous lives into business school through mentorship and community building. As a former college counselor, I am really excited to meet all the Consortium's newest members and help them forge their journeys at Darden with lots of fun along the way.
Where can I find details on eligibility and application criteria?
Please visit the Consortium website. Darden welcomes all Consortium applicants who meet the mission and application requirements for the Consortium.
If I plan to apply through the Consortium, will my Darden test waiver apply - therefore exempting me from the Consortium's test requirement?
You are able to apply directly to the Consortium if you received a test waiver from Darden. Once you receive that test waiver confirmation, please share that with the Consortium prior to the deadline so that they can process your application as 'complete' so that your application will be sent to Darden in a timely manner.
The Consortium Interview
Interviews will be conducted according to each school's specific policy. Darden has an invitation-only admissions interview process. Upon review of applications, Darden will invite Consortium applicants to interview at Darden. Please follow the application deadlines section for timeline estimations for interviews.
Consortium Events
We host a variety of on-grounds events throughout the fall, including an annual Diversity Conference. During these sessions, attendees have the opportunity to connect with current students, faculty and staff and explore life in Charlottesville. You also have the opportunity to meet students in our Affinity Clubs over dinner and attend a social gathering hosted by the Office of Diversity and Inclusion.
In addition, Darden will have admissions and/or alumni representation at all of the Consortium MAPS events, as well as some of the other Consortium events held throughout the country during the summer and fall.
Consortium Application Deadlines
Darden accepts and reviews all Consortium applications that meet the Consortium application deadlines. The Darden Office of Admissions will determine each year the review timeline and decision deadlines that the Consortium applications will follow once received. This information will be posted in our application deadlines section. Membership notification will come directly from the Consortium. Fellowship notification will come directly from the Darden School Foundation and will occur after the Membership and Selection Committee meeting in early March.
Access the Consortium application.
Consortium Fellowships
Candidates who apply to Darden through the Consortium that are admitted compete for full tuition fellowships. The Darden School Foundation Scholarship Committee awards several fellowships each year. Learn more about Darden's fellowships and scholarships.
Consortium Application FAQs
The Consortium put together an FAQ on their website to help answer questions about the Consortium application process.
The Orientation Program
Once a Consortium admitted applicant's deposit has been received by the Office of Admissions, notification of and preparation for the Consortium's Orientation Program (scheduled in late spring or early summer) will begin immediately. Admitted students are invited and expected to fully participate in the Orientation Program as well as all the preparation activities offered through Darden.
Community Engagement and Leadership
Darden's Consortium students are very active and engaged within the Darden, UVA and Charlottesville communities. They participate in a variety of clubs, organize events and volunteer their time to give back to the School as well as the Consortium. Whether leading from where they are or in an official capacity, Consortium students are expected to be leaders in the community.
Darden students represent national organizations as well. Darden has student members and scholars representing the Forté Foundation, the National Black MBA Association, the National Society of Hispanic MBAs and the Toigo Foundation to name a few.
Alumni
Darden Consortium alumni remain connected with Darden in a variety of ways. Alumni support the School and the students by serving as support resources for students, attending events at Darden throughout the year, supporting the alumni chapters in their home cities and representing Darden at partner and recruiting events.
Podcast Featuring Consortium Co-Liaisons
(Recorded April 2023)
Darden's Consortium Cohort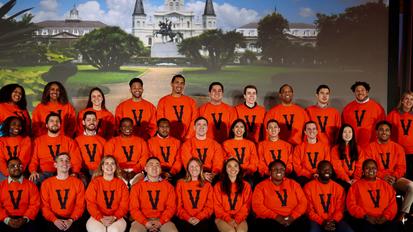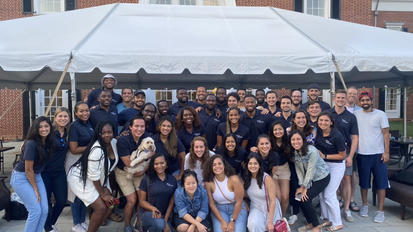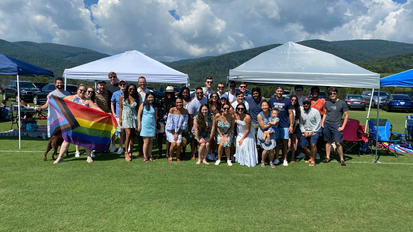 Darden's Class of 2025 Consortium crew at Orientation Program (OP) in New Orleans
Consortium students host a Darden "Cold Call"
Consortium and Pride at Darden host a tailgate at a King Family Vineyards polo match