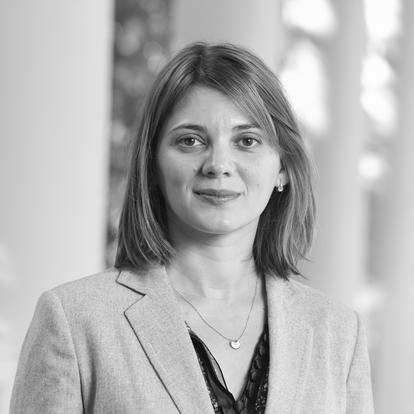 Dana Popescu
Associate Professor of Business Administration
Office
FOB 192A
Phone
Academic Area
Areas of Expertise
Pricing Analytics, Revenue Management, Demand Forecasting, Optimization
Education: B.A., Bucharest University of Economic Studies; M.A., Ph.D., New York University 
Dana Popescu is an associate professor at the University of Virginia Darden Business School, where she teaches in the full-time MBA program. Prior to joining Darden in 2017, Dana was a faculty member at INSEAD. She has taught in undergraduate, graduate and executive programs in Asia, Europe and the U.S. 
Popescu's main research interests include pricing optimization, revenue management and demand forecasting. In the past, she worked on projects related to ad scheduling and revenue optimization for television networks in the U.S. and Singapore. Her most recent work focuses on how advances in automation and information technology are changing the way pricing decisions are made, in real time, based on the latest information on demand, inventory and competitors' prices. Another recent area of work involves aggregation of subjective opinions for demand forecasting. Her research has been published in top journals such as Management Science, Operations Research and Naval Research Logistics. 
Popescu has served on the editorial board of the Journal of Pricing and Revenue Management, was a secretary/treasurer for the INFORMS Revenue and Pricing Management Section, and is currently a board member in the INFORMS Revenue and Pricing Management Section.
Selected Publications
Popescu, D.G. and P. Crama. 2016. Ad Revenue Optimization in Live Broadcasting. Management Science. 62 (4): 145-1164.
Jain, N., Hasija, S., and D.G. Popescu. 2013. Optimal Contracts for Outsourcing of Repair and Restoration Services. Operations Research. 61 (6): 1295-1311.
Popescu, D.G. and S. Seshadri. 2013. Demand Uncertainty and Excess Supply in Commodity Contracting. Management Science. 59 (9): 2135-2152.
Tadikamalla, P.R., Banciu, M., and D.G. Popescu. 2008. An improved range chart for normal and long-tailed symmetrical distributions (Technical Note). Naval Research Logistics 55: 91-99.
Tadikamalla and D.G. Popescu. 2007. Kurtosis Correction Method for Xbar and R Control Charts for Long-Tailed Symmetrical Distributions. Naval Research Logistics. 54: 371-383.