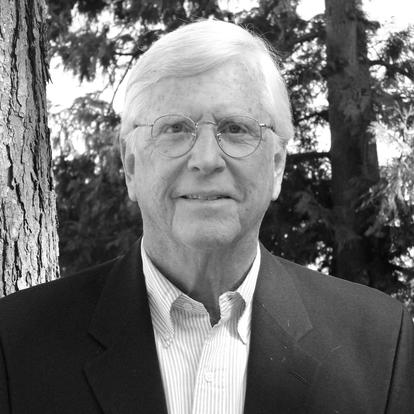 George E. L. Barbee
Lecturer
Areas of Expertise
Innovation in Large and Small Companies, Strategy through Implementation, Global Entrepreneurship, Marketing Innovation in Product and Service Companies
Education: A.B., Brown University, 1965; M.B.A., University of Virginia Darden School of Business, 1967
George E. L. Barbee has taught Innovation, Entrepreneurship and Marketing Strategy at Darden since 1999, when he was named one of the first Batten Faculty Fellows. His 45-year innovative business career spanned Fortune 500 companies as a senior executive at Gillette, P&G's Noxell Division, Wilkinson Sword Ltd., Global Partner of PriceWaterhouseCoopers (PwC); Co-Founder of the Consumer Financial Institute; and Chairman and Board member of several entrepreneurial companies.
Barbee was a Darden student and graduated in 1967, became Darden Alumni Board Chair and a Trustee in 2000, and a Senior Lecturer on the Darden Faculty since 1999. He taught the course "Innovating and Integrating in Services: The New Economy" until his sabbatical to write his innovation book in 2014. He received the prestigious Darden alumni Abbott Award in 2000.
In addition to his Batten Fellow article "Innovating with Customers…, From Strategy Through Implementation" and several mini cases, Barbee has written or been quoted in numerous articles in The New York Times, The Wall Street Journal, and national magazines like Fortune and Businessweek. He has appeared frequently on NBC's Today Show, ABC's Good Morning America and CNN. He was invited live on the Today Show the day the stock market crashed in October of 1987 and on CNN during the Russian Coup of 1991.
Barbee has led innovation in revolutionizing the global shaving industry, his entrepreneurial company became the largest independent provider of financial planning in the U.S. prior to being acquired by PwC, and his work at PwC revolutionized the firm's global structure working with 350 of their largest clients. His work with Gillette, General Electric, PepsiCo and IBM led to innovative projects across 40 countries. Barbee currently teaches, consults and speaks to groups of interested innovators and entrepreneurs.
He and his wife, Molly, travel extensively and live in Captiva Island, Florida, and Leland, Michigan. Their four sons are scattered from D.C. to Montana to Atlanta.
Articles and Cases:
"Innovating with Customers..., From Strategy to Implementation." 2000; revised 2002; revised 2009.
Case: "What's An Experience Worth? - The African Safari." 2008; revised 2011.