Communication
Learn about the Communication academic area at Darden, its faculty and its work.
The Darden School has offered courses in communication for general managers since its founding. Communication (COM) is closely aligned with the mission of the School.
Leaders who make a difference in the world of practical affairs depend on excellence in communication. Communication is central to both the daily lives of managers as well as the differentiator that makes for exceptional leaders.
COM's mission is to weave together the rich tradition of rhetoric and persuasion, best practices of workplace communication, and the communication technology and social media managers use today so that Darden MBAs stand out for their excellence as communicators.
Taken together, our courses aim to: 
Lay the foundation of lifelong learning for excellence in communication to give Darden MBAs a competitive advantage beginning while they are MBA candidates, during summer internships, in the early stages of their careers and as they move on to greater and greater responsibility
Set the stage for a perspective that sees communication as tied to action
Tie together the notion of how developing an individual managerial voice is closely related to engaging internal and external stakeholders through contemporary mediums of communication
Encourage a global and cross-cultural approach to communication
COM faculty members have doctorates in Communication, Pedagogy and English. Their research interests include cross-cultural communication, communication pedagogy, social media and technology, corporate communication, corporate branding, crisis management, bargaining and negotiation as well as conflict resolution.
First Year COM
First Year COM should be seen as a foundational course in managerial communications. This course is assignment- rather than case-based, and through experiential learning introduces students to modules in communication strategy or the practice of communicating with intent, the role of narrative in business and leadership, informative communication as well as argument and persuasion. These topics are all addressed through framing concepts; oral, visual and written mediums; and the changing technological landscape now facing managers. Storytelling, listening and providing appropriate feedback have increasingly emerged as basic managerial competencies. 
First Year Electives
"Interpersonal Communication" extends the First Year required course with the topic of how people communicate in organizations and discussions of the communication in the networked organization, the contemporary form of the modern workplace. "Strategic Communication" focuses on implementing defined strategic goals through communication using cases, exercises, scenario planning and increasingly important topics such as corporate branding, reputation management and crisis communication 
Second Year COM Electives
COM II takes the interpersonal communication course into the Second Year and addresses professional communication and the uses of social media in networked organizations. "Corporate Communication" includes the internal as well as external communications and actions that define a company. It takes an in-depth look at how the enterprise uses identity, corporate branding, reputation management, crisis communication and new media to engage stakeholders. "Media, Entertainment, and Sports Management" discusses the value chain in disrupted markets, creating value in creative enterprises, creativity and venturing within this set of enterprises. All COM courses have components that further the oral and written communication skills begun the fall of the First Year and are designed for general managers. 
Leadership Communications Council
We aim to be the best management communications program in the world. This means constantly improving our curricula and advancing impactful knowledge as thought leaders. We have established the Darden Leadership Communications Council (the Council) — composed of leading communications professionals and academics — to advise us and help us chart a path to achieve this objective. 
Steering Committee members for the Council are:
Kenneth Askew, MUFG/Bank of Tokyo, Mitsubishi
Charles McNair, MAS Leadership Communication, Inc.
Steve Soltis, The Coca-Cola Company, MAS Leadership Communication, Inc.
June West, University of Virginia, The Darden School of Business
Faculty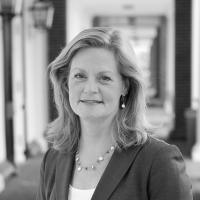 Julie Logan Sands Associate Professor of Business Administration
Kluge Endowed Chair, School of Nursing