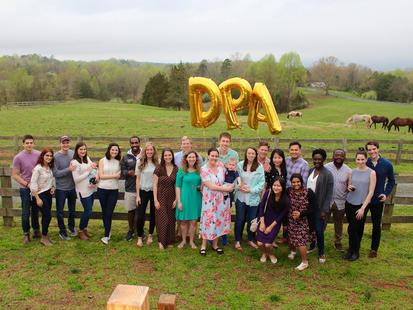 Diversity at Darden
MBA - Diversity - Partners & Families
Partners & Families
The partners and families of the Darden School students are an integral part of the Darden community. Not only do the partners provide support to their students while at Darden, but they are also very active in supporting Darden and the Charlottesville community. The Darden Partners Association (DPA) is an organization run by Darden student partners who organize volunteer efforts and social activities, and also provide job and child care resources. You can learn more about DPA through their Instagram!
Partner Blogs
Two partners of Darden MBA students blog about their experiences living and working in Charlottesville. Visit the Darden Blogs page to read their posts.
Social Events
The DPA organizes monthly and weekly activities throughout the school year and over the summer. These activities include happy hours, walking groups, book clubs, trivia nights, movie dates and dinner at local restaurants and partners' houses. These events enable partners to meet new friends, share common experiences and explore the Charlottesville area together.
In the following video, Sara Lee (MBA '15) shares how the welcoming community made a big impact on her and her partner.