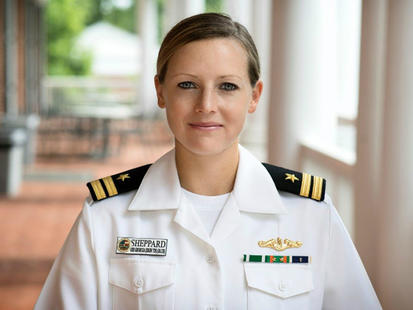 Diversity at Darden
MBA - Culture and Community - Diversity at Darden - Military
Military
A Darden MBA coupled with military experience provides a competitive advantage in the business world. Darden is dedicated to the education of the whole person with the goal of enhancing and sharpening the wide range of transferable skills already finely honed in the military:
Leadership
Discipline
Decision-making
Teamwork
Ethical behavior
Students with military experience comprise between 7 – 9% of the incoming Darden class each year. Darden military veterans represent a pool that is rich in diversity — both in experiences and backgrounds — and they have made an impact as leaders both inside and outside of the classroom. Their leadership and management skills are highly valued, and the team-oriented, case method style of learning at Darden is a perfect fit for their skills.
Read Professor and Dean Emeritus Robert F. Bruner's blog post, " Generosity and Veteran's Day", for his reflections on military leadership and why "we actively seek excellent students from the ranks of the military." Military MBA named the Darden School of Business one of the top 15 Best Value MBA Schools for Veterans Using the New GI Bill.
Military Scholarships, Application Fee Waivers & Admissions Information
Darden Student Veterans Benefit From Updates to the Post-9/11 GI Bill
The GI Bill pays all public school in-state tuition and fees, including graduate programs. If you have questions about the GI Bill, you can either attend a veteran's benefits Q&A session during one of the fall open houses or contact the Office of Financial Aid by email.
Darden is one of the few top ranked MBA programs in the country that is part of a public university and thereby able to accept the above updates to your GI Bill benefits. Visit Veterans Educational Benefits for more information.
Application Fee Waivers
The Darden School of Business waives the application fee for military persons. Your application fee waiver will be applied automatically when you fill out your application, and you will receive an email confirmation for any fee waiver applied.
If you have any questions, please contact the Admissions Office at darden@virginia.edu.
Interview Schedule and Deployment
Many of our military applicants are deployed during Darden's interview process. Please be assured that we are able to accommodate our deployed veterans who receive an interview request. We can arrange a video call with you or have a phone conversation. We know your timing may not always fit the schedule we post, so please feel free contact us to discuss alternate times given your deployment schedule.
ONE-YEAR DEFERMENT
Darden will provide a one-year deferment if admitted military students' plans are delayed by their service branch.
Contact Military Students & Alumni
Learn about the military community at Darden by contacting the leaders of the Darden Military Association and Darden Admissions.
The Darden Military Association
The Darden Military Association (DMA) is an active and vibrant club. The mission of the DMA is to assist members in leveraging former and current military experiences to enhance career opportunities within the private sector, build esprit de corps and camaraderie within the Darden Community and host lively leisure events. The DMA hosts a monthly speaker series, numerous social events and opportunities for networking with alumni. DMA members also serve as mentors to incoming students.
Military Leadership Electives
The Darden School of Business recently created two new courses, specifically designed for students with a military background:
8500E Military Leadership Laboratory (limited to active reservists)
8500F Military Leadership Laboratory (limited to former military)
These courses, developed through the initiative of members of the Darden Military Association and a Darden professor, were created to provide seminars where veterans can share their leadership insights and develop ways to use them in a civilian career. The reservist course will be a real time survey of challenges faced by leading soldiers as reserve officers.