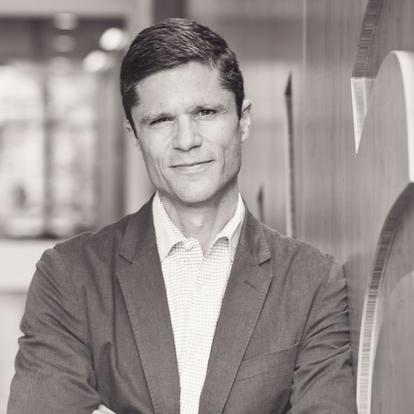 Sean Carr
Executive Director, Batten Institute
Assistant Professor of Business Administration
Office
Camp Library 209G
Phone
Academic Area
Areas of Expertise
Innovation & Entrepreneurship, Technological Change & Transformation, Entrepreneurial Decision-Making, Crises and Complex Systems, Business & Economic History
Education: B.A., Northwestern University; M.S., Columbia University; MBA, Ph.D., University of Virginia
Sean Carr serves as Executive Director of the Batten Institute, an endowed center of excellence dedicated to advancing education, research and practical experience in entrepreneurship, innovation and technology at UVA Darden, consistently ranked among the top MBA programs for entrepreneurship worldwide.
The Batten Institute supports a wide range of activities across the school, including sponsored faculty and research, multidisciplinary initiatives, academic and practitioner conferences, a prestigious and competitive scholarship program, a pan-university venture incubator and accelerator program, a variety of venture and technology internships, as well as a portfolio of courses, competitions, workshops, and experiential learning opportunities. In addition, the Institute maintains full-time operations in the San Francisco Bay Area, connecting Darden students and faculty with alumni, senior executives, investors, and entrepreneurs in this and other entrepreneurial ecosystems.
Carr also holds an appointment as assistant professor of business administration at Darden, where he co-teaches a capstone elective, Gales of Creative Destruction: Causes and Consequences of Disruptive Technological Innovation Through History.
Carr's research explores innovation and entrepreneurship; technological change and transformation; decision-making under risk and uncertainty; complexity, crisis and systemic response; and other themes in business & economic history. His work has resulted in award-winning books, articles, case studies, digital media, and numerous teaching materials. He has been cited by the New York Times, the Wall Street Journal, the Financial Times, Newsweek, NPR and CNBC; he is also the co-author of The Panic of 1907: Lessons Learned from the Market's Perfect Storm (Wiley, 2007), with Robert F. Bruner.
Prior to joining Darden, Carr spent nearly ten years as a journalist and producer with ABC News (New York) and CNN (Atlanta, Washington, DC). He earned a PhD in management and an MBA from the University of Virginia, where he was also awarded a Batten Media Fellowship; an MS from Columbia University; and a BA from Northwestern University.
Selected Publications
Bruner, Robert F., Carr, Sean D., and Mehedi, A. (2016). "Financial innovation and the consequences of complexity: insights from major US banking crises." In Complexity and Crisis in the Financial System: Critical Perspectives on the Evolution of American and British Banking, Matthew Hollow, Folarin Akinbami and Ranald Michie (Eds.), London: Edward Elgar, pp. 13-35.
Kuechle, G., Boulu-Reshef, B., and Carr, S. (2016), Prediction-and-Control-Based Strategies in Entrepreneurship: The Role of Information, Strategic Entrepreneurship Journal, Special Issue: Theories of Entrepreneurship, 10(1), pp. 43-64.
Carr, Sean and Lenox, Michael. 2014. "Entrepreneurship and the Middle Class: Can Startups Save the American Dream?" Batten Briefing Series. Charlottesville, VA.
Books
Bruner, Robert F., and Carr, Sean. The Panic of 1097: Lessons Learned from the Market's Perfect Storm. New York: John Wiley & Sons, 2007. Hardcover and paperback editions. Translations in German, Japanese, and Korean.
Cases
Advancing knowledge through research that shapes business, Darden professors are recognized thought leaders in their fields. They are not only master case method teachers, they also author many of the cases used in Darden classrooms and around the world.
Sean Carr's cases are available in the Darden Business Publishing website.