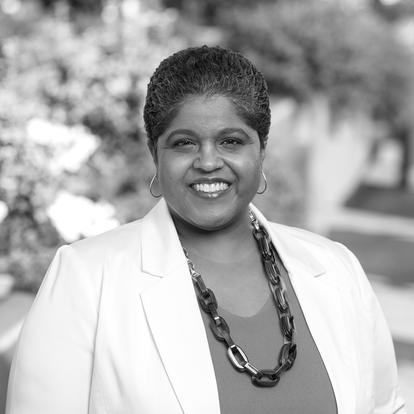 Laura Morgan Roberts
Associate Professor of Business Administration
Office
Based in Rosslyn
Academic Area
Education: Ph.D., Organizational Psychology, University of Michigan. M.A., Organizational Psychology, University of Michigan. B.A., Psychology, University of Virginia. 
Dr. Laura Morgan Roberts is an Associate Professor of Business Administration at the University of Virginia's Darden School of Business. Laura's research and consulting focus on the science of maximizing human potential in diverse organizations and communities. She has published over fifty research articles, teaching cases, and practitioner-oriented tools for strategically activating best selves through strength-based development. She has also edited three books: Race, Work and Leadership; Positive Organizing in a Global Society; and Exploring Positive Identities and Organizations. Her influential publications on diversity, authenticity and leadership development have been featured in Harvard Business Review and several other global media outlets.  
Laura earned a BA in Psychology (highest distinction & Phi Beta Kappa) from the University of Virginia, and an MA and Ph.D. in Organizational Psychology from the University of Michigan. She has served on the faculties of Harvard Business School, Georgetown University McDonough School of Business, and Antioch University's Graduate School of Leadership and Change. She has also taught courses in organizational behavior, psychology, negotiations, group dynamics, diversity, leadership and career development as a faculty affiliate of the University of Michigan, the Wharton School of Finance, Tuck, Georgia State University, UCLA Anderson, Simmons School of Management, and AVT (Copenhagen). 
Selected Books
Roberts, Laura Morgan, Anthony J. Mayo & David A. Thomas. "Race, Work and Leadership: New Perspectives on the Black Experience." Harvard Business Review, 2019. 
Selected Publications
Roberts, Laura Morgan, Emily D. Heaphy & Brianna Barker Caza. "To Become Your Best Self, Study Your Successes." Harvard Business Review, May 2019.  
Washington, Z. & Laura Morgan Roberts. "Women of Color Get Less Support at Work." Harvard Business Review, March 2019. 
Selected Media
"When Strength Becomes Weakness." Ted #WorkLife podcast with Adam Grant that features the experience of participating in the RBSE with Laura Morgan Roberts and Bijou Abiola.
"Do You Bring Your Best Self to Work?" Making Positive Psychology Work podcast with Michelle McQuaid, featuring Laura Morgan Roberts. 
Koening, Rebecca. "Polish Your Professional Self-Image with Better Self-Awareness." U.S News and World Report, May 2019. 
Stark, Mallory. "Creating a Positive Professional Image." Harvard Business School Working Knowledge. An interview with Laura Morgan Roberts.