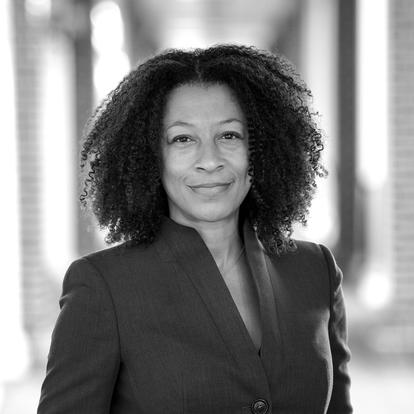 Toni Irving
Frank M. Sands Sr. Professor of Practice
Education: B.A., University of Virginia; M.A., University of Kent; Ph.D., New York University
Toni Irving, Ph.D., is the Frank M. Sands Sr. Professor of Practice at the Darden School of Business at the University of Virginia where she writes, teaches, consults, and convenes around Leadership, Non-Profit Management and Organizational Behavior, Cross Sector Partnerships, Social Impact, Corporate Responsibility, and Business Ethics. This work is a culmination of Irving's decades of experience across multiple interconnected responsibilities in finance, healthcare, academic, consulting, government, philanthropy, and non-profit management.
Previously, Dr. Irving launched and led the social impact fund Get IN Chicago (GIC). Get IN Chicago collaborated and shared learnings and strategy with corporations, local government, health systems, and private philanthropy to facilities individualized solutions that were global in application but local in determination. Over six years and $45m this public private partnership developed data-driven solutions to some of Chicago's most difficult social and economic problems by investing in, evaluating, and building capacity in non-profit organizations supporting public systems. Prior to that, Irving served as Deputy Chief of Staff and Senior Advisor to Illinois Governor Pat Quinn. In this role she oversaw strategic planning, policy development, budgeting, personnel and legislative activities for human services and public safety agencies with combined budgets of $8 billion. Additionally, she advised the governor on social and governance concerns, women and minority business, workforce development issues, and on strategies to assist high poverty communities. Dr. Irving oversaw the state's 2009 Stimulus funded transitional jobs program employing over 28,000 Temporary Assistance for Needy Families (TANF) eligible individuals and inspiring over 3,000 to return to school. In the department of Juvenile Justice, Dr. Irving implemented a therapeutic model of care which lead to a population decrease of 80% as well as the closure of two under-utilized state juvenile facilities during her tenure.
Immediately prior to her government service, Dr. Irving was a member of the faculty at the University of Notre Dame where she conducted research and teaching at the intersection of law, literature, and social policy. Earlier in her career he was a financial analyst in wholesale banking. She received her B.A. from the University of Virginia, M.A. from the University of Kent at Canterbury, England as a Rotary Scholar, and Ph.D. from New York University. In 2011, Dr. Irving  received the MacArthur Foundation "Champion for Change" award, recognizing her efforts to reform juvenile justice. Currently, Irving serves on the boards of The Points of Light Foundation (Vice Chair, Programs) and The Mead Endowment. She is a Nonresident Senior Fellow, Global Cities at the Chicago Council on Global Affairs, a member of the Juvenile Justice Leadership Council, the Wayfarers Club, The Economic Club of Chicago. Previously, Irving Chaired the Illinois Poverty Elimination Commission and the Illinois Human Services Commission. A Philadelphia native, Toni Irving splits her time between Charlottesville, VA, and Washington D.C., where Darden has a new campus.