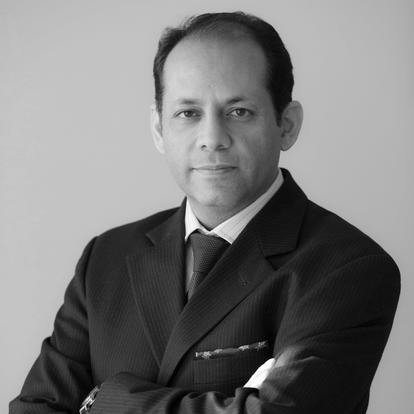 Rahul Bhandari
Lecturer and Dean's Fellow
Phone
Academic Area
Areas of Expertise
Entrepreneurship, Strategic Leadership
Lecturer and Dean's Fellow, Rahul Bhandari teaches leadership and strategy in the Executive MBA Program and The Executive Program, Darden School of Business's flagship advanced management program for senior executives. Rahul is an expert on real issues of leadership, growth strategy, and digital transformation that are meaningful to the CEO, Board members, and Investors.  
Rahul dares to imagine we can change the world for the better. In a world that too easily settles for less, he believes it's worthy work to envision, believe in, and strive for economic freedom, inclusion, and mutual respect. That's the work he does every day. Rahul is a high-intensity synergistic leader co-creating value through new business building - from scale-up to IPO - ideation to value realization - driving digital transformation and profitable growth.
As CEO of Force Multiplier Capital, manages a concentrated portfolio driving disruptive digital transformation with six exits and an IPO. As the Founding General Partner of Reaction Global Sustainability Fund, Rahul invests in authentic leaders promoting innovations to solve global issues that are ready to scale. Previously, Founder/CEO of a digital transformation, data analytics, and compliance solutions firm. Recognized for leadership in helping clients fast-track and sustain transformational impact.  Senior Advisor to the World Bank.
Keenly interested in the future of technology, Rahul brings a special focus on the cross-sector opportunities at the intersection of new technologies and existing business models. As a consultant, he led growth, corporate strategy, and digital transformation engagements for CMT clients at Accenture. Rahul co-founded the global incubator and venture unit - funding and incubating a global portfolio of 350+ tech startups.
Rahul held global operating (P&L) leadership roles in the TMT sector. Established and led the global M&A group at Thomson Reuters to drive their transformation from a traditional publisher to a digital information provider. Established and led the post-merger integration group at DynCorp, acquired by CSC for $1 Billion. At Oracle, Bhandari held multiple roles, including product management of emerging technologies, solutions engineering, and enterprise sales. Rahul started his career as a software engineer at Intelsat, where he led a team to develop and manage software for communication satellites. 
Award-winning author, educator, speaker, and dynamic force for good. Donates proceeds from his award-winning book, Slingshot: The Power of Bold Moves, to nonprofits that help young people realize their dreams. Deemed "The go-to person for sharp thinking and conscious leadership" by Forbes, "Silicon Valley's high-powered thinker" by Fortune, and "Leadership Expert" by Psychology Today.
Rahul is a graduate of The Executive Program (TEP), the Darden School of Business's flagship advanced management program for senior executives, and the Director's Consortium, a joint program with Stanford, Tuck, and Chicago Booth School of Business for directors of public or soon-to-be public companies.