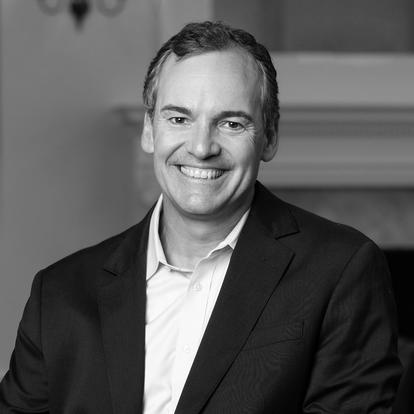 Matthew McBrady
Professor of Practice
Matthew R. McBrady, Ph.D., is an independent investor, Board member, and Senior Advisor to public companies, venture-backed startups, hedge funds and non-profit Impact Investors. Prior to moving to Washington, D.C., he spent nearly 15 years as a hedge fund and private equity investor, serving as the Chief Investment Office of BlackRock's Multi-Strategy hedge fund, the Managing Director of Investments at the Cystic Fibrosis Foundation, and the head of Investment Strategy and Risk Management at Silver Creek Capital Management. He also spent over 10 years helping transform Global Partnerships from its early roots in microfinance into a leading global Impact Investor with over $450M in capital deployed and a recognized pioneer in Impact-first (or "catalytic capital") investing.
Before moving to the private sector, Dr. McBrady was an award-winning professor at the Wharton School of the University of Pennsylvania and the Darden School of the University of Virginia where he has recently returned as a Professor of Practice. Earlier in his career, he also served as both a policy advisor and entrepreneur.
As a policy advisor, Dr. McBrady worked as an International Economist with Janet Yellen on President Clinton's Council of Economic Advisors where he was actively involved in shaping the administration's response to the Asian Financial Crisis. He was subsequently recruited by Timothy Geithner along with Nouriel Roubini to join the Asian Financial Crisis Task Force and to serve as a founding member of the U.S. Treasury's Office of Policy Development and Review.
An an entrepreneur, Dr. McBrady helped establish and grow two successful public companies. First, aQuantive, a pioneer in digital marketing that had its IPO in 2000 and was subsequently acquired by Microsoft in its largest-ever acquisition prior to Skype. He also led TASER International (now Axon) through its 2001 IPO and helped transform it into a leading provider of technology solutions to law enforcement officials and first responders worldwide through more than 15 years of subsequent Board service.
Dr. McBrady earned an A.B. degree in Economics from Harvard College in 1992, a M.Sc. in Economics for Development from Oxford University in 1993, where he was a Marshall Scholar, and a Ph.D. in Business Economics in 2002 from Harvard University. He has published numerous articles in academic journals, several Harvard Business School and Darden School case studies, and co-authored a chapter in the Encyclopedia of Financial Globalization.
Published Journal Articles
Who Makes On-the-Run Treasuries Special? (with Jeremy Graveline). Journal of Financial Intermediation (2011).
Do Firms Believe in Interest Rate Parity? (with Michael Schill and Sandra Mortal). Review of Finance (2010).
Foreign Currency Denominated Borrowing in the Absence of Operating Incentives (with Michael Schill). Journal of Financial Economics (2007).
Bailing In (with Mark Seasholes). Journal of Restructuring Finance, Vol. 1. No. 1 (March, 2004).
Case Studies
A Managerial Primer on the US Bankruptcy Code (with Matthias Hild). UVA-QA-0633.
Futures on the Mexican Peso (with Kenneth A. Froot and Mark S. Seasholes). 2000, HBS Case: N9-296-004.
The 1994-1995 Mexican Peso Crisis (with Kenneth A. Froot). HBS Case: 9-296-056.
Invited Book Chapters
Opportunistic Issuance of Foreign Currency-denominated Debt (with Michael Schill). Encyclopedia of Financial Globalization.