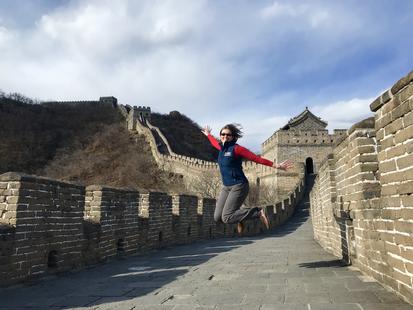 Global Study
EMBA - Global Study - China
China Residency
Past global residencies in China have explored business, governmental and cultural centers such as Shanghai and Beijing.
Courses
Courses commonly taught during this residency focus on key local and multinational companies for further framing the conduct of global business. These courses could include:
Global Economies and Markets
Global Leadership Explorations
Operations Management
A typical residency day includes three case method classes (some of which are taught by multiple faculty during a single class session — watch this Darden Team Teaching video to learn more) and learning team meetings in the evening. Throughout the residency, you will also participate in global leadership exploration engagements (examples outlined
Residency Highlights
The following activities are a sample of past the residency engagements and are subject to change each year.
Speakers
Vice-Chairman of JPMorgan-Chase on conducting business and managing family-life in Asia
Founder of China Star on starting businesses in China.
Executive Vice-President of Kone Elevator China on the commercial growth in the Chinese market and the role of foreign companies and investment.
Local Chinese business experts on conducting business in China and its historical and current cultural context.
Local Beijing attorneys on the developing role of law and litigation in business in China.
Company Visits
Following an Operations and Global Economies and Markets case study on Wal-Mart Asia, students visited a Shanghai Wal-Mart Supercenter.
Students visited Baidu, a prominent Chinese language web search engine company.
Students participated in a day-long kaizen (quality improvement exercise) at Fluke's Shanghai Shilu Instrument Co. with an opportunity to apply concepts learned via distance learning in a real-world environment. Students spent a day in the factory and then delivered recommendations to company executives and workers on improvement actions they could take.
Other Engagements
Students have met and networked with alumni who were attending Darden's Annual Global Leadership Forum in Shanghai.
Following a case study on urbanization, students visited Shanghai's Urban Planning Exhibition Center, the People's Park and community organizations to better understand the degree of government influence in commercial, cultural and day-to-day activities.
Students visited the Great Wall, Forbidden City and Tiananmen Square as studies in governmental relations to diplomacy, trade and commerce.
below) that are closely linked to your coursework.
Darden in China
Nearly half of all of Darden's current international students hold citizenships from a nation in Asia, with the most students coming from China. Check the admissions schedule for the calendar of when Darden representatives will be in your area.
The residential MBA program offers a Global Immersion Course to China each year and often Global Consulting Projects with clients in China, too. Second Year residential MBA students also have the opportunity to go on exchange at one of our partner schools in China, such as Peking University's Guanghua School of Management or China Europe International Business School (CEIBS). Also, the Executive MBA offers a residency in China each year.
Darden Executive Education regularly develops custom programs for clients in China, sometimes in partnership with other schools or local organizations. Leaders from China have also attended Darden's The Executive Program, a flagship course for executive development.
Through Darden's Asia Initiative, Darden faculty often conduct research or offer thought leadership in relation to India or present in the country.
Contact Us
Darden maintains a presence in China through the UVA China Office in Shanghai, which regularly hosts events, supports activities and serves as the Eastern gateway to the University of Virginia and Darden.