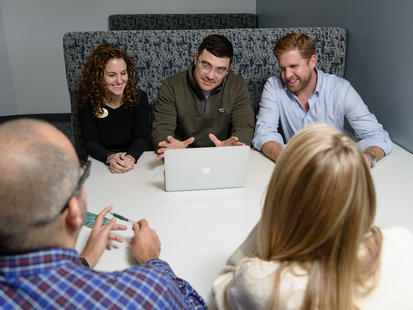 Career Support
EMBA - Career Resources
Career Resources
Darden's Executive MBA students represent tremendous variety in terms of industries, professions, career and life stages and more. As such, they also represent a very broad range of career needs.
Personal Attention, Invaluable Expertise.
Each individual is unique, of course, and there are as many career stories and career pathways as there are graduates of this Program, and those stories and pathways frequently change while at Darden. In general, however, our executive format students come to Darden with one or more of the following five career objectives.
Advancing within one's current organization.
Switching to a new company, industry, and/or profession.
Transitioning from the military into a new role in the private or public sector.
Pursuing an entrepreneurial track to launch a new business or expand an existing one.
Enhancing one's management skills and business acumen to enable one to "stay on top of their game" and provide continued leadership in a changing business environment.
Regardless of your situation or your professional objectives, Darden's Career Center is dedicated to your success and excited about the opportunity to work with you to support and advise you on the strategy and tactics for your career and its transitions.
Meet the Executive MBA Career Center Team
Career Services
The Career Center offers a variety of services that you can take advantage of during your two years at Darden. Many of these services are provided in Charlottesville, in the DC area and remotely, allowing you to engage at the times and places that align best with your schedule.
Our best-in-class services include:
Career Coaching
From finding your purpose, to developing your resume, to negotiating a job offer, Darden's career team provides you with one-on-one personalized coaching to ensure your unique career needs are met and you can focus on making that next step in your professional advancement.
Leadership Coaching 
Darden's Executive MBA career coaches also offer students the unique opportunity to receive leadership coaching. From engaging in self-reflection to providing guidance on how to hold promotion discussions, our coaches have a wide range of effective leadership tools to share with Darden students.  
Job Search and Career Advancement Tactics 
Throughout your time in the Executive MBA program, career coaches will provide you with resources for all stages of your job search or career advancement process. From developing your resume, to building a robust LinkedIn profile, to understanding job negotiation, Darden's coaches equip students with the necessary tactics to achieve their unique career objectives. 
Career Education
Optional interactive workshops are offered throughout your time at Darden. General sessions explore the foundational skills needed for all candidates in a job search, while tailored workshops focus on specific skill development, areas of interest and/or recruiting basics. Online content makes career education accessible 24/7.
This course is designed to help executive MBA students adopt new behaviors and reach their potential as managers and leaders. The course begins with drawing the map from where you are today to where you want to be as a result of your MBA. 
Company Interaction
During the program, you have the opportunity to interact and engage with companies in-person, schedule permitting.
And, regardless of your goals, Darden alumni will likely play an integral role in your career journey. In fact, many of our students find their next opportunity through a network-driven search. As an executive format student, your network will consist of more than 18,000 Darden alumni in 90 countries around the world. 
An Engaged Network
Darden is known for our strong community. Between resources on-Grounds, Darden alumni, and friends of Darden, you will build a solid network and support group that ensures success in your career advancement.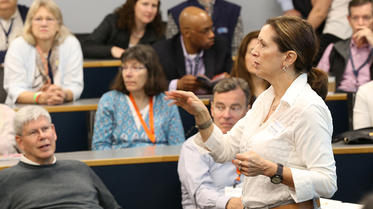 Alumni Career Resources
Darden's Armstrong Center for  Alumni Career Services offers lifelong, complimentary career services to Darden alumni.