Administrative Leadership
About Leadership - Sean Carr
Sean Carr
Executive Director, Batten Institute for Entrepreneurship and Innovation, and Assistant Professor of Business Administration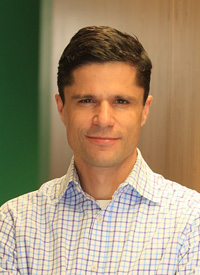 Sean D. Carr (MBA '03, Ph.D. '13) is the executive director of the Batten Institute for Entrepreneurship and Innovation and an assistant professor at the Darden School.
Carr provides administrative leadership for a $130 million center that advances research and teaching in the areas of entrepreneurship and innovation at Darden, recently ranked as the No. 3 entrepreneurship program in the world (Financial Times, 2016). In this role, he oversees the W.L. Lyons Brown III Innovation Lab, a pan-university hub for venture creation and development. In addition to his responsibilities with the Batten Institute, Carr serves as a member of the School's leadership team, reporting to the senior associate dean for faculty and research. He also chairs the University of Virginia Entrepreneurship Advisory Council, which reports to the Office of the Provost of the University.
Carr's applied research has examined entrepreneurial dynamics, social networks, venture capital and financial crises. His work has been cited by The New York Times, The Wall Street Journal, Financial Times, Newsweek, NPR and CNBC. He is also the co-author of The Panic of 1907: Lessons Learned from the Market's Perfect Storm. Previously, he spent nearly 10 years as a broadcast journalist with ABC News' World News Tonight with Peter Jennings and CNN. He has earned both a Ph.D. in management and an MBA from Darden, a master's degree from Columbia University, and a bachelor's degree from Northwestern University.