Administrative Leadership
About Leadership - Joey Burton
Joey Burton
Executive Director, Institute for Business in Society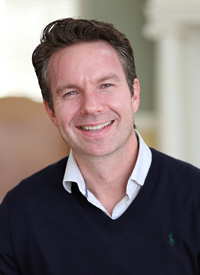 Joey Burton leads the Institute for Business in Society at Darden, with the mission of helping Darden's faculty change the prevailing narrative about business and capitalism. The institute supports faculty scholarship, generates translational research and thought leadership, and promotes engagement of students and alumni through targeted programs that explore business' role in society.
Burton leads a staff of researchers, writers and project managers who work to expand faculty opportunities for research impact. He coordinates business and society programming and content at Darden. He also develops research agendas and programming to extend the reach of business and society scholarship into other academic disciplines and into business and policy practice.
Prior to joining the Darden School, Burton led the research, operations and outreach efforts of two research institutes at the University of Chicago. He previously served as executive director of the Coase-Sandor Institute for Law and Economics at the University of Chicago Law School, where he built a research support infrastructure that integrated economics with other legal disciplines. Prior to that, he served as director of research and operations for the Center for Population Economics at the Chicago Booth School of Business, where in addition to his research in population demography, he led the work of several federal research grants on health and aging.
Burton holds a master's degree in public policy from Brigham Young University and an MBA from the Chicago Booth School of Business.