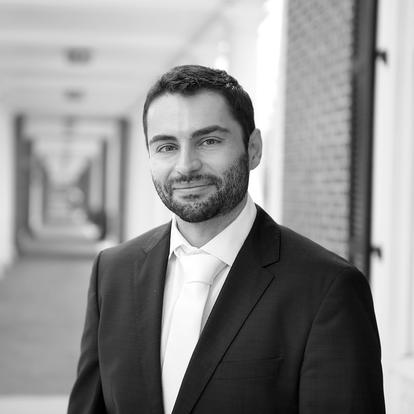 Luca Cian
Killgallon Ohio Art Associate Professor of Business Administration
Office
FOB 283
Phone
Academic Area
Areas of Expertise
Visual Persuasion, Psychological Response to Artificial Intelligence, Social Identity, Consumer Psychology, Marketing Research, Multimethod Research
Education: M.S., University of Trieste (Italy); Ph.D., University of Verona (Italy); Visiting Ph.D., University of Michigan; Postdoc, University of Michigan
Luca Cian is a professor at the Darden School of Business. When he lived in Italy, the Italian Association of Psychology awarded his doctoral dissertation "Best Dissertation" in his division. The Council of Italian University Rectors, the Italian National Research Council, and the Italian Minister of Youth recognized him as one of the best young researchers in Italy. Luca was at the University of Michigan, Ross School of Business from 2010 to 2015 and has moved to the University of Virginia, Darden School of Business since then.
His research area is consumer behavior, with a focus on visual persuasion, psychological response to artificial intelligence, and social identity.  He is also specialized in using different methodologies. He also does biofeedback research, mostly using eye-tracking technology. His most recent research honors include: winner of the Research in Practice Award (American Marketing Association 2021); nominated for the Journal of Consumer Research "Best Paper Award" (2018); top 10% of authors on SSRN by all-time downloads (2018-2022); top 11 most impactful articles in the leading marketing journals selected by the Marketing Science Institute (November 2015 issue); and top 10 most downloaded articles of Journal of Consumer Psychology (September-December 2014). He currently serves on the editorial board of the Journal of Marketing Research.
With respect to teaching, Luca has taught "Marketing," "Consumer Behavior," and "Artificial Intelligence: Psychological Insights" for MBAs and EMBAs at Darden. Luca's teaching has been awarded by Poets & Quants when he was named one of the "40 Most Outstanding Business Professors Under 40, a Global Recognition" in 2019. The Darden Class of 2021 and 2017 voted him as Faculty Marshal (one of the highest recognitions of the school). Finally, he is often in the top 10% of the teaching evaluations of the school.
Luca's passion for diversity is also recognized by the students, as they nominated him for the Faculty Diversity Award (2019, 2021) and for the Theo Herbert International Award for exceptional contributions to the promotion of Darden as an outstanding international business program (2020).
Luca routinely connects with companies and managers. His research has been used by international marketing research companies (e.g., IPSOS) and several institutions (e.g., the New Zealand Tourism Industry Association, the Alaska Research Development and Technology Transfer). Luca has also worked with international corporations (e.g., Electrolux), medium size businesses (e.g. Timavo Ship Supply), and start-ups (e.g., Tropicaux).
Luca has published in the top marketing academic journals, including Journal of Marketing Research, Journal of Consumer Psychology, Journal of Marketing, Nature Communication, and Journal of Consumer Research. Popular accounts of his work have appeared in The New York Times, USA Today, VOX, PBS, The Washington Post, NPR, and others.