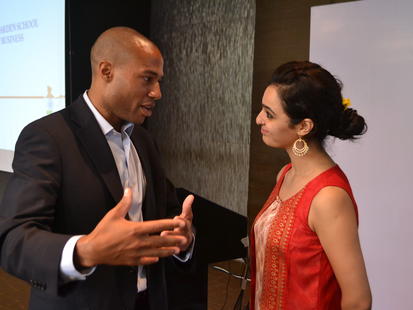 Global Study
EMBA - Global Study - India
India
Past global residencies in India have allowed students to learn about key cities in India's economy and culture, such as Mumbai and Delhi.
Courses
Courses commonly taught during this residency focus on key local and multinational companies, current economic issues and culture for framing the conduct of global business. These courses could include: 
Global Leadership Explorations
Strategic Thinking & Action
Marketing 
A typical residency day includes three case method classes (some of which are taught by multiple faculty during a single class session — watch this Darden Team Teaching video to learn more) and learning team meetings in the evening. Throughout the residency, you will also participate in global leadership exploration engagements (examples outlined below) that are closely linked to your coursework.
Residency Highlights
The following activities are a sample of past residency engagements and are subject to change each year.
Examples of Speakers
Executive president of the Times of India Group on the unusual case of increasing paper-based readership of newspapers in India and the responsibility of the media to encourage, support and direct the younger generations to continue to propel India ahead.
A panel of banking leaders on changing saving, investment, and banking practices in India.
President of Coca-Cola India/South Asia on brand and social responsibility.
C-suite leadership of the The Oberoi Group on developing leaders in the management of service organizations.
Company Visits
To gain insight into new product development and R&D practices, students visited Portescap, a miniature motor producer and division of Danaher.
Students visited Apollo Hospitals to better understand healthcare operations in India and to investigate their new telemedicine program covering all of rural India and one outpost in each African country.
Other Engagements
Students spent part of a day at the Old Delhi Markets in Chandni Chowk.