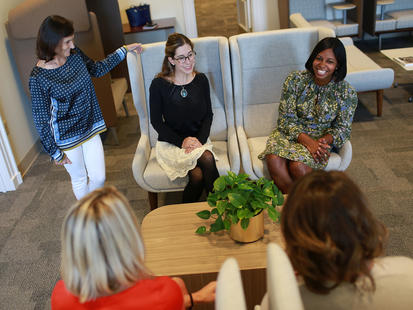 Recruiters & Career
Recruiters & Career - Recruit Darden Talent - Support
Recruiting Support
Darden facilitates high-touch support for recruiters seeking diverse talent through its Career Center team, world-class Grounds and high-visibility opportunities to promote your recruiting needs.
Personalized Recruiting Support Yields Unparalleled Results
Darden connects a diverse mix of recruiters from all major industries and geographies with the right talent to ensure companies and students obtain their optimal outcomes year after year. Darden's incredible team guides each recruiter on the path they need to secure talent. With decades of experience creating personalized hiring strategies, the Career Center's employer engagement and recruiting team offers high-touch, end-to-end service through personalized partnerships and a responsive staff that is always prepared to help recruiters pivot.
Visiting Darden is quick and easy. The School simplifies and expedites a recruiter's job with Charlottesville accommodations, parking and food, and provides ample space for recruiting events and opportunities to recruit virtually.