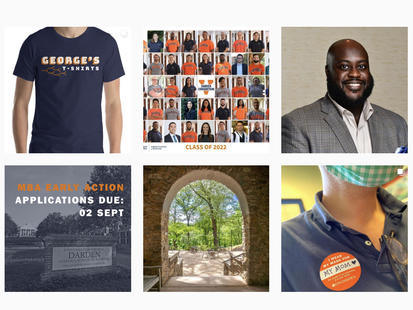 Brand Style Guide
Darden Brand - Social Media
Social Media
Social
Through social media, Darden engages in and cultivates dialogue that highlights the unique learning experience, thought leadership of our faculty and the strength of our network. To recommend postings to Darden's social media accounts, please email Tom van der Voort and Ivy Lustig.
Twitter Hashtags and Handles
When tweeting about Darden, please help strengthen the School's visibility by consistently including the following hashtags: #whydarden #putyourwhytowork #dardenmba #uva.
Additionally, tweets relevant to our MBA program and the general Darden community should include hashtags such as #mba and #bschool, while tweets relevant to our Executive Education audience should include #execed.
While the use of these topic-specific hashtags (e.g., #dardenmba #uva #mba) enhance our visibility, they should not be confused with handles (e.g., @DardenMBA, @Bob_Smith, @DardenExecEd), which are intended to address or mention specific accounts.
In addition to these primary official accounts, faculty members, staff, clubs and organizations further Darden's social media presence with their own posts and accounts. Organizations and clubs launching new accounts are encouraged to contact the Office of Communication & Marketing for guidance and brand-consistent artwork. You are also encouraged to consider the time and resources required to maintain an active and engaging account.
Darden's Primary Official Social Media Pages and Accounts