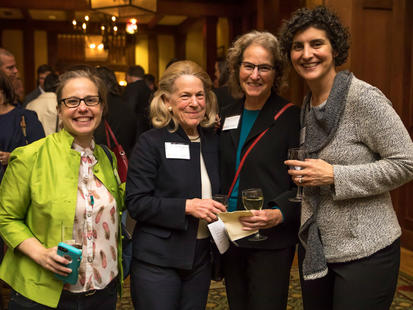 Awards
Featured Alumni - Awards - 2018 Volunteer Awards
2018 Volunteer Awards
Darden's alumni volunteers are recognized for their achievements each fall.
The most recent Volunteer Celebration and Awards dinner recognized the outstanding work of volunteers and Darden alumni classes in the 2018 fiscal year. 
2018 Outstanding Chapter Leadership Team
Richmond Chapter
Joseph J. Basar (EMBA '12)
Thomas J. Childress IV (MBA '12)
Lauren T. Conroy (EMBA '14)
Susan Christian Coogan (MBA '82)
Andrew G. Crowley (MBA '11)
Rebecca G. Dvorak (MBA '03)
 
2018 Outstanding Chapter Commitment Award
Charles D. Brown (MBA '97)
 
2018 Outstanding Chapter Secretary
H. Gregory Kilduff (MBA '68)
 
2018 Outstanding Reunion Executive Committee
Nathan H. Blessing 
Maureen E. Harrell 
Glendell L. Hudson 
Gregory J. Lloyd 
Shelley S. Reese 
Joël C. Schreiber 
Saptarshi Sinha (all MBA '08) 
 
Reunion Awards
Highest Reunion Dollar Total
Class of 1988: $2,966,545
Highest Reunion Annual Fund Dollar Total
Class of 1988: $244,956 
1988 Reunion Executive Committee
Jerome E. Connolly Jr. 
Allison Cryor DiNardo 
A. Robertson Hanckel Jr. 
Bret W. Holden 
John C. Oakes II 
Martha A. Shenkenberg 

Highest Reunion Class Participation
Class of 1968: 54%
1968 Reunion Executive Committee
Willard Bunn III 
W. Gibson Harris II 
H. Gregory Kilduff 
Richard A. Mayo 
John F. McJennett III 
Theodore W. Price 
R. Van Whisnand
 
Non-Reunion Awards
Highest Non-Reunion Annual Fund Dollar Total 
Class of 1984: $474,694
Gary R. Wilhite 

Highest Non-Reunion Class Participation
Executive MBA Class of 2011: 79%
David M. Schmidle
Thomas D. Tichenor
Michael J. Wade
 
Abbott Society (1957–68)
Highest Annual Fund Dollar Total
Class of 1963: $77,246
John H. Wright III
Hugh L. Campbell
Robert L. Gaines

Highest Class Participation
Class of 1958: 88%
Edward G. Dinwiddie
C. Ray Smith
 
High Performance Awards
All giving leaders who achieved 50 percent or more Darden class giving participation.
 
Edward G. Dinwiddie (MBA '58)
C. Ray Smith (MBA '58)
Hugh L. Campbell (MBA '63)
Robert L. Gaines (MBA '63)
John H. Wright III (MBA '63)
Willard Bunn III (MBA '68)
W. Gibson Harris II (MBA '68)
H. Gregory Kilduff (MBA '68)
Richard A. Mayo (MBA '68)
John F. McJennett III (MBA '68)
Theodore W. Price (MBA '68)
R. Van Whisnand (MBA '68)
Leslie L. Tarkington (MBA '69)
James M. E. Mixter Jr. (MBA '75)
Carol V. Brooks (MBA '87)
Richard P. Dahling (MBA '87)
John D. Munford III (MBA '87)
Tim Oakhill (EMBA '09)
David M. Schmidle (EMBA '11)
Thomas D. Tichenor (EMBA '11)
Michael J. Wade (EMBA '11)
Alan Deleon Alegado (GEMBA '16)
I.S. Mitchell Dunklin (MBA '17)
Maureen E. Keegan (MBA '17)
Huddie Alexander Williams (MBA '17)
Lewis L. Nelson (EMBA '17)
Casey K. Steffan (EMBA '17)
Maria T. Boucas (GEMBA '17)