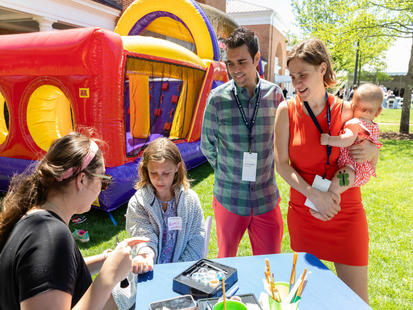 Alumni Reunion
Alumni - Events & Reunions - Family Friendly Weekend
Family Friendly Weekend
The entire family is welcome during Reunion Weekend.
We're delighted that you are planning a return to Grounds this spring. If you are traveling with children or grandchildren, please know that they are welcome at Reunion. When you arrive on Grounds and check in, you will find activities in the lobby to occupy them while you pick up your registration packet, catch up with friends or learn about new initiatives from various Darden departments. The Picnic and Field Day on Saturday is planned with children in mind, offering moon bounces, face painting, a petting zoo, a balloon artist and room to play. Nursing moms in need of a quiet space should stop by our registration desk for assistance.
There are several options in Charlottesville to secure private child care at your hotel room:
UVA Women's Center provides a list of local babysitters. For more details, please contact the Office of Engagement at +1-434-243-8977.
Local Nanny Network provides premier on-site childcare for events in the Charlottesville area. You simply reserve the days and times that you need childcare and they will arrive at your hotel or wherever you need their services. Their nannies are screened, CPR certified, have at least three years of childcare experience and are personally interviewed. You can find their nanny bio and picture on the website. The nannies arrive in uniform fully stocked with games, books, and crafts to keep the children happy and engaged while parents can enjoy the reunion without worry.
Note: The Office of Engagement does not endorse nor does it screen any outside caregiving services. All services must be agreed upon by the vendor and client.
While in Charlottesville, you may find the Charlottesville Family website helpful for kid-friendly activities, parks and playground locations and more.
Should you have any questions, don't hesitate to ask.