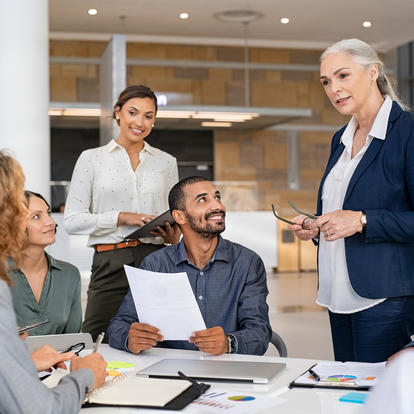 Collaboration and Influence
Discover what motivates your organization's internal and external stakeholders to build trust, promote positive engagement, gain support for new ideas and ultimately drive long-term success and growth.
Upcoming Dates

Program Dates

Format

Time Commitment

Program Fee
4 Mar 2024 - 12 Apr 2024
Self-Paced Online,
Online
5 weeks
$1,600.00
Overview
Become a more influential leader and gain support for your ideas by honing your skills in negotiation, managing key relationships and effectively handling pushback.
This program is hosted entirely online and self-paced. Practice what you learn with assignments and implement your new skills with toolkits containing strategies to handle common challenges. Participants should expect to spend approximately 2–5 hours per week on coursework.
__________
Payment is due in full at time of registration.
Intended For
Individual Contributor, Team Leader
Why Enroll?
Learn to deliver a powerful vision, orchestrate complex change or gain support for a key innovation by developing your competence in stakeholder engagement, influence, strategic engagement and negotiation.
Upon completion of this program you will be able to: 
Better manage key relationships
Build consensus through influence
Use storytelling as a persuasion tool
Master negotiation
Implement learnings immediately
Build empathy by identifying what matters to each stakeholder group
Engage more effectively with your key stakeholders
Align purpose and address conflicts within groups
Appeal to and leverage different stakeholder perspectives to develop more effective solutions
Develop a negotiation style and approach that opens communication and builds trust between parties, making it possible to create mutual value in the final agreement
Collaboration and Influence is a self-paced, online program conducted over the course of 5 weeks. There are five modules, which each contain:
Videos covering important concepts
Learning Surveys to benchmark your pre-program knowledge and track your progress throughout the program
Assignments that give you a chance to learn by doing
Toolkits that provide you with strategies for taking these skills back to the real world
Participants should expect to spend approximately 2–5 hours per week on coursework.
This program is designed for leaders and team members who need to:
Communicate a vision and gather support for it
Motivate teams to do accomplish goals
Manage the risks of diverse stakeholders failing to achieve alignment on key projects
Become more influential inside and outside their organization
Efficiently and effectively navigate daily interactions with peers, teams and other stakeholders
Professor Bobby Parmar shares a brief overview of the program and impact for leaders.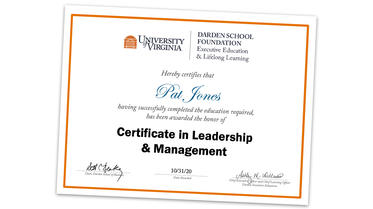 Earn Your Certificate
Collaboration and Influence counts as one program toward a noncredit Darden Certificate in Leadership & Management. Complete this program and three additional programs within a four-year period to earn your certificate.
Faculty