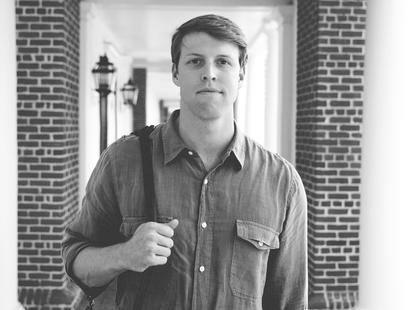 Tom Santi
MBA '16, Managing Member, Dry Creek Partners
As a University of Virginia undergraduate student and a member of the Cavalier football team, Tom Santi (MBA '16) transformed on the gridiron into a star who was drafted by the Indianapolis Colts in 2008.
But when a knee injury ended his career after three years in the NFL, he needed another transformation.
"That actually, in a strange way, provided a good opportunity for me to start thinking more about the future, and forced me to do it realistically," Santi said.
Long interested in business, he had done some small-scale real estate investing. Back home in Nashville, Tenn., he got a job at a big commercial brokerage firm.
It was his first corporate job and a great experience, he said, but not what he wanted to do long-term. "I realized if I wanted to get really good at something again, I was going to need a lot of training," he said. "Business school was the perfect transition opportunity."
His search for a rigorous MBA program led him back to his alma mater.
"There are other programs that are not as challenging as Darden, but for me, I needed to do the work," he explained. "It was really about learning a new skill set."
As an undergraduate, Santi had been captain of the football team and graduated with a degree in sociology. But at the Darden, he was starting over, and the learning curve was steep. "This is a challenging program, and I came in with a lot less context than probably my average peer," he said.
Santi arrived with the idea of starting his own business or working for a startup. He thought about launching a search fund after graduation, and planned to spend the summer back home in Nashville, making plans.
Then he broke and dislocated his ankle playing softball — "thinking that I still had the athletic edge, which I definitely don't anymore," he recalled ruefully. The injury kept him local, and he ended up landing a position as a summer associate at PlusTick Partners, a distressed securities hedge fund founded by Santi's strategy professor, Adrian Keevil, and local investor Thomas Hill.
"It's kind of the opposite end of the spectrum from what I initially thought I wanted to do," Santi said. "But I had a great summer, I learned a ton and really had a great time doing it, so that informed what I want to do long-term."
Back at Darden, he completed a concentration in corporate finance and investment banking, and lined up a job in New York at Moelis & Co., a boutique investment bank. He plans to eventually focus on restructuring, advising companies in financial distress.
"Moelis seems to have a very entrepreneurial culture within investment banking," he said. "There's a lot of competition, but a lot of collaboration as well." That's a combination that he thrived on in football, and discovered at Darden, too.
"The group of people that I now consider friends and colleagues, I think, is one of the really unique and powerful things about Darden," he said. "I've made a lot of good friends, I've learned a ton from them, and I think that's one of the most valuable things that I will take with me.
"Darden really was the ideal transition for me," he said. "If you are intellectually curious and truly willing to do the work, the experience can be transformative."
This story originally appeared in UVA Today.