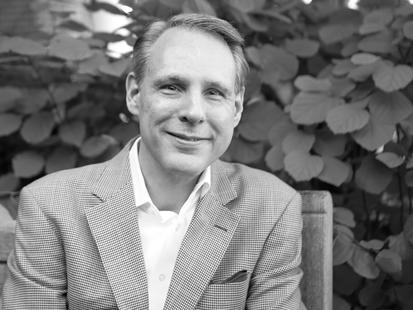 Scott Price
MBA/MA '90, Chief Strategy and Transformation Officer, UPS
Learning to Lead Globally
Scott Price (MBA/MA '90) always knew he wanted to live and work overseas. After graduating from the University of Virginia Darden School of Business, Price left the U.S. on a tourist visa and began a professional journey that now finds him serving as chief strategy and transformation officer at UPS. It's a path to global success that Price attributes in no small part to his time at Darden. Prior to his current role, he served as CEO of Walmart Asia and executive vice president and chief administrative officer of Walmart International. Price spoke to Darden for the following Q&A during his time as CEO of Walmart Asia.
How has Darden changed since you were here?
I was in Darden "Siberia" for about 15 years. From 1990 to 2005 I was very frustrated with the School. I tried to stay connected, but the school was very U.S. focused. It was not globally interested and I talked quite a bit about that with anyone from the school who happened to be visiting Asia. But in the last 10 years, I have seen an amazing progression in the School; one that I'm very proud of. One that engaged me at an emotional and an intellectual level and as a result, versus my engagement from 1990 to 2005 where I put my school support at a 1.5 or 2 on a scale of 1 to 10, I now would say I'm at a 10. 
It's followed that our understanding is that we can no longer just be globally focused, but we have to be globally positioned. Globally positioned for Darden to me means bricks-and-mortar presence in Asia.  
I'm thrilled with the Shanghai office. I'm very pleased with the Investment Summit. I'm pleased with the GEMBA program. I'm pleased with individuals like [Professors] Peter Rodriguez and Dennis Yang and the role that [Darden Center for Global Initiatives Executive Director] Marc Johnson played to be able to ensure that the school is thinking about how we intersect with that next generation of global leader, because we simply can't be a U.S. business school. That is not reflective of the global economy and the future of business. Very few businesses can truly say that they are U.S.-only businesses. They're impacted by international whether they like it or not. 
Why are you so engaged? You have a demanding job. You have children. You're clearly very busy. Why is it important to be involved in this enterprise?
Because Darden is the only reason I am what I am today. I came from nothing. I couldn't afford college initially. I saved up and was working full time and going to school full time at UNC Charlotte, because that's where my job was. My boss was a Darden alum — Lyn Camp. I hadn't heard of UVA and I hadn't heard of the Darden School. I felt like I had to get an MBA if I truly was going to engage with the world. At that point, I didn't even have a passport. I wanted to see the world and wanted to be out there.  
And Lyn said, I'll give you six letters of recommendation, but one of them has to be to the Darden School. So I started investigating Darden and I found out they had this joint degree program. I came down and saw [Former Director of Admissions] Jon Megibow and did the interview and sat in on some classes and was just so excited by it. I was accepted at Darden and was accepted at Columbia and was trying to decide between the two, because I wanted this global positioning and New York felt like it could be more global. The MBA/MA program at Darden was three years and it sounded very exciting, but there were no guarantees you'd get into it and, two, the scholarship was critical for the third year. I remember calling [Professor Emeritus] Les Grayson on the phone in 1987. And Les said, in summary, "You don't sound like an idiot. You sound like someone we could let into the program. Do well in your first year and you will get in."  And that's how I ended up at Darden. And there's no way I would have had the role I've had or the career I've had or the opportunities or income potential or the life that I've had if it had not started at Darden. I also would have missed the chance at a now 28-year mentorship/friendship with Les and his wife, Olivia. And that's why I have that passion.
We talk a lot at Darden about our mission of producing responsible leaders.  Can you distill your leadership philosophy in a few words? How do you think about leadership?
I try to be intentionally patient, but am not always successful. I joke that I am genetically impatient so that tells you how hard it is. I was on a trip once walking stores with the leadership team in China at a hypermarket in Shanghai, which was a little bit like what you would expect in a Wal-Mart here, but the very next day was outside of Delhi, walking one of our cash-and-carry stores with the leadership team in India. Very different businesses, very different cultures, very different leadership teams, but, again, being patient with the fact that there are things to be improved but clear we need to move with speed. And never ever be satisfied. So patient about discovering gaps but aggressive on time to fix gaps — and there are always gaps. You want to be respectful and polite. You don't want to be arrogant. 
It's an intensity, but doing it in a way that is patient; a way that is the most approachable to your team as well potential hires. I often say As hire As and Bs hire Cs. High-potential people want to feel like their voice can be heard and that they are learning, and I have found that lasering in on questions and pushing — but in a polite, patient way — is the best way to develop and create strong teams. I don't know. I never really thought about it. I am who I am. Whatever style you have, you have to be authentic.  
It's also authenticity that is really important and makes people feel like you are approachable.
What keeps you up at night, from a business standpoint?
Businesses are struggling with a new economic normal, driven by a couple of things. The first issue is the economic structural change in countries like China as the government shifts from an export driven focus to one of domestic spending. This is affecting the rest of the world, while the economic slowdown in key markets around the world is affecting China — and that has an important knock-on effect.  
I recently received the resume of a young man in Chicago who was looking for a job. For the last four years out of MBA school, he had been an expert at commodity trading for minerals in Australia. Because of the slowdown in exporting — China is importing less minerals — that market has collapsed quite a bit and he was taken off his desk and was looking for a job. So here's this Chicago-based person who has had their life affected by the impact on Australia of an economic restructuring in China driven by reduced demand from main markets in the world.  
The second issue is the advent of the digital world, not only of product but also services and security. There's a lot happening in the digital world that is causing quite a bit of rethink in terms of economic models and business models. The third is the whole area of what is the responsibility of global businesses to meaty topics like sustainability, the environment and safety of workers in countries that are removed three times in terms of sourcing materials that go into a product sold in your eventual market. What is the living wage responsibility removed by three? The idea of a corporations and its responsibilities has changed dramatically in the last 10 to 20 years, and Wal-Mart feels like they are playing an important voice in that. 
So what keeps me up at night is the combination of those three while you keep all of your stakeholders happy — your customers, your associates and your shareholders. I just think it's going to be a really interesting decade as those three non-traditional responsibilities remain at the forefront.
Well, I'm glad we have a Darden man leading the charge.
Oh dear, don't say that.