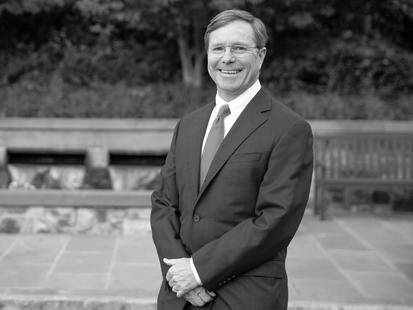 Ruffner Page
MBA '86, President and CEO, McWane Inc.
For some people, the community they live in is just the background to their lives. But Darden alumnus Ruffner Page (MBA '86) is committed to giving back and making a difference in Birmingham, Alabama, the city he calls home. Originally from Memphis, Tennessee, Page has been a Birmingham resident for over 30 years.  
Page, the president and CEO of McWane Inc.,  has served on a variety of civic organizations including Leadership Birmingham, the Birmingham Education Foundation, the Birmingham Airport Authority, the Community Foundation of Greater Birmingham, the Alabama Symphony Orchestra and the Birmingham Museum of Art. 
"In most towns there are a hundred things you could get involved in, but you can't be involved in everything. So, I've tried to get involved in representative aspects of the community that help the quality of life," Page said.
Page is passionate about improving the education system in Birmingham. As a founder of the Birmingham Education Foundation, he works to make quality public education a reality for every student in Birmingham. McWane Inc. — employer of over 6,700 team members and one of the world's largest makers of iron water infrastructure products, including pipe, valves, hydrants, fittings and plumbing products, along with fire extinguishers and propane tanks —shares this passion, leading projects such as Birmingham's McWane Science Center — one of the nation's largest, hands-on science museums.
The commitment to civic responsibility that Page and Phillip McWane, chairman of McWane Inc., share extends to their commitment to corporate responsibility. Under Page's and McWane's leadership, the company has become an industry leader in environmental and workplace safety. 
"It wasn't easy," Page said. "We were under intense scrutiny by government regulators. McWane Inc. went through a major culture change and reshaped the way it does business, especially in its environmental, health and safety programs. We put the highest ethical standards in place. We call it The McWane Way. At its heart it means we are committed to taking care of our team members and the communities where we operate."
After leading the transformation, Page realized his experience was an intense learning opportunity. So, he came back to Darden to help teach a crisis management class and share with Darden students how to successfully emerge from difficult situations.
"The first thing we conveyed to the class was that if you do the right thing, over time, it will pay off," Page said. "Also, having a dose of humility when times are good is the best antidote for mistakes."