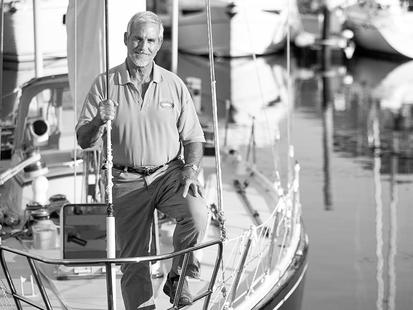 Rives Potts
MBA '78, President, Safe Harbor Marinas
Learned the Ropes, Then Took the Helm of New York Yacht Club
In 1851, a schooner named America emerged out of the mist to swiftly overtake England's Royal Yacht between the Isle of Wight and the south coast of England. That day, the yacht America did more than win the inaugural America's Cup — it proved the new world could challenge Great Britain's unrivaled reign as the world's maritime power.
In more than 150 years, only four nations have won the oldest trophy in international sport, which is still considered by many to be "without a doubt the most difficult in sport to win."
In the spring of 1979, about a year after graduating from the University of Virginia Darden School of Business, 30-year-old Rives Potts (MBA '78) joined sailing legend Dennis Conner's crew. Their goal was to win the America's Cup, the world's most coveted sailing trophy. For the next 17 months straight, they trained relentlessly without taking a single day off.
To sail year round, the crew had to truck Conner's yacht, Freedom, from Rhode Island to San Diego for the winter. When they loaded the boat, it was Thanksgiving Day, and there was a massive snowstorm. They encountered plenty of other obstacles along the way, all of which Potts took in stride. Even when they were stuck in an El Paso, Texas, truck stop for two days waiting for a permit to enter New Mexico, he and his wife, Nancy, made good use of the time. They painted the deck bright blue so it would look its best when they arrived in San Diego, Conner's hometown. 
RAISING THE BAR
The crew's perseverance paid off. They won 49 out of 51 trial races, and then they won the 1980 America's Cup. The stakes were especially high because the team was sailing on behalf of the New York Yacht Club (NYYC), the country's oldest, most prestigious yacht club, which had defended the cup for more than 120 consecutive years.
Their race made the headlines of every major newspaper and newscast. Potts said the intensity and fervor with which they trained altered the entire approach to the game, establishing higher standards of excellence for future competitors, who had, in the past, only prepared for a few months in the summer for the historic race.
Potts went on to sail in four other America's Cup campaigns. Over his racing career, he has sailed most of the world's major ocean races, including more than 20 Bermuda races. In 1979, he sailed for American media mogul Ted Turner during one of history's most harrowing Fastnet races. Fifteen yachtsmen were killed and 75 boats capsized while Potts helped Turner's yacht to victory.
Potts' tenacity also helped catapult his career. A little over three decades after defending the America's Cup for the NYYC, Potts was named the club's Commodore. In addition to his full-time role as chair of the NYYC board, he is also president and operations chief of Brewer Yacht Yards in Westbrook, Connecticut, where he oversees more than 26 boat yards from Maryland to Maine. 
LATE TO BED, EARLY TO RISE
After more than 30 years on the job at the Brewer Yacht Yards, Potts is still the first person to get to work at 6:30 a.m. and the last one to leave. Affable and enthusiastic, no task is too menial. One moment he is helping an employee steer a boat into its slip and the next he is picking up trash. "To be a leader, I feel you have to be an enlisted man first," he said. 
Potts leads by example. In his office, he keeps a framed list of his guiding principles — "Rives-isms" — as his employees affectionately call them. They are words he tries to live by that speak to his core values of honesty, loyalty, determination and hard work.
"When you sail, you pull together all the things you've learned about leadership," said Potts. "The Ted Turners of the world would make good generals, good CEOs, good anything." The same characteristics Potts admires in his heroes are the very traits that make him an exceptional leader on and off the water.
THE DARDEN DISTINCTION
Potts credits Darden for helping him get ahead. "Not many guys in my business were fortunate enough to have the education I had," said the Virginia Military Institute graduate who was awarded a Darden scholarship. "It was very humbling to be surrounded by so many bright people who wanted to succeed."
Potts said he did not fully appreciate the value of his Darden education until he got into business. "Whether it is related to accounting, marketing or organizational behavior, there isn't a day that goes by when I don't think of a case we studied," he said.
While Potts readily admits that being Commodore of the NYYC has its perks, affording him the rare opportunity to dine with dignitaries such as King Juan Carlos of Spain and Princess Anne, the Richmond, Virginia, native is just as delighted to have a quiet night on his boat, Carina, with friends and family.
As Potts enters his final year as Commodore, his main goal now is to, as he puts it, "make sure I've got a good bench. I'm always thinking about the number two guy."
Knowing that a fellow Darden classmate, William Ketcham (MBA '77), is currently the Rear Commodore and will take over for him in a few years gives Potts a profound sense of confidence that he will be able to fulfill his goal of leaving the organization better than he found it. And, undoubtedly, the New York Yacht Club will be better for having had Potts at the helm.