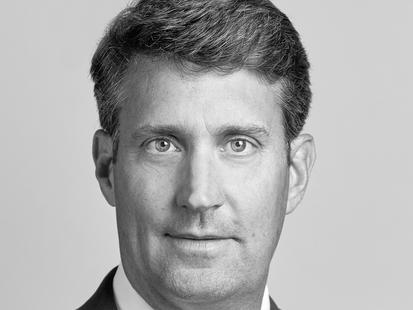 Rick Edmunds
MBA '92, Senior Partner, PwC
Rick Edmunds (MBA '92) is a senior partner and member of the leadership team of the Health Industries Group at PwC; is part of Strategy&, the strategy consulting arm of PwC, and leads enterprise platforms and integrated solutions; and personally advises life science clients across areas of strategy development, transformation, performance improvement and organizational design.
The challenges faced by health care organizations have long held interest for Edmunds. From his time with the Pharmaceutical/Medical Product Leadership Group at McKinsey & Co., through almost 15 years with PwC and predecessors Booz Allen Hamilton and Booz & Co., Edmunds has worked to help businesses thrive in an environment fraught with heightened competition, fast-evolving technologies, shifting health care policies and complex operating landscape. 
"I love that most of the companies in the industry are really focused on providing real benefits for individual people," Edmunds says. "It's not a fad, it's not the next new thing.
"More than that," he emphasizes, "the industry is growth-oriented. The value of a company is driven by innovation — real innovation that benefits people on a global scale. It's complex, especially in the U.S., so if you like problem solving, there's no better place to work on strategic issues."
The people factor figures prominently for Edmunds. "Our business model in serving clients relies on consistently high-caliber colleagues, who are not just smart but determined to make a difference. As for myself, in the course of a day, when I walk out of a client meeting, I invariably feel energized because I know PwC has had some form of impact — either through the work we've done or the personal advice we have given. As I see it, we are thought partners with our clients, enabling a better way to address problem points or to advance goals."  
Edmunds credits his time at Darden with sharpening his ability to "round the edges," when looking at the complex issues and thorny problems that abound in the health care industry.
"It's more than offering up the analytical answer to a specific problem," he says. "It's a matter of stepping back, taking the broader perspective, and asking pivotal questions that bring curated solutions into focus: What's the company trying to accomplish? What does success look like? What actions stand to have the greatest value and impact?"
In that process, Edmunds says technology has been the pervasive disrupter, bar none. "It used to be that you defined a business problem, created a business solution, and then asked, 'So how do we do this from a technology standpoint?' Today, the mindset is almost reversed. The questions often become, 'What can technology do now and in the future?' followed by, 'So how does that create new growth opportunities or valuable ways of working?'"
Long-term relationships with Fortune 100 companies and engagement with a broad network of high-profile clients have given Edmunds nuanced insights into the health of the health care industry and its future direction. He is the author of numerous publications on ranging from life sciences and pharmaceutical trends to new commercial models designed to better engage customers.
Beyond his work at PwC, Edmunds draws great energy and satisfaction from his involvement in philanthropic and mission-based organizations, especially his role as vice chair of Darden's Corporate Advisory Board (CAB). Scheduled to become board chair in mid-2019, he views corporations as "among Darden's most important stakeholders. Because CAB members enable stronger relationships between the School and their companies, they are directly invested in developing future-forward opportunities for Darden."
Edmunds also believes Darden's presence in the Washington, D.C., area is integral to its far-reaching opportunities. "First, it's symbolically important. The city is an international center and supports Darden's reputation as an international school. Second, because we're a Virginia-based MBA program, it makes sense to go beyond our historical roots in Charlottesville. And third, Darden gives both the private and public sectors access to different education models, such as the Executive MBA and a host of other top-tier joint programs and collaborations. In short, our presence creates open-ended opportunity thanks to the generosity of the Sands Family and the vision of Darden leadership."  
Looking ahead, Edmunds sees his post PwC future as a second act to his consulting career. "I know I want to stay in the 'advice' business, whether that's serving on boards, in philanthropies, or with nonprofits or other mission-based firms," Edmunds says. "For me, exerting meaningful influence on the future of an organization is far more exciting and fulfilling than exerting management control."