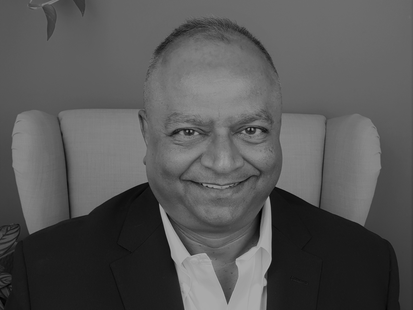 Ramapati Singhania
MBA '81, Managing Director, Varal Consulting DMCC
Among Ramapati Singhania's (MBA '81) favorite memories of Darden, Singhania fondly remembers Professor Alec Horniman and his identical suits. Singhania said that Horniman's teaching impressed him deeply and lessons from his classes are still shaping his career.
"From him, I learned the value of consistency, the pain of firing and the importance of managing people. I remember him clearly even though 38 years have passed," Singhania said. 
Before Darden, Singhania grew up in India then moved to England to complete his advanced level General Certificate of Education. He came to the United States and attended Columbia University for a year before transferring to Carnegie-Mellon, where he completed a bachelor's degree in engineering. Upon graduation, Singhania was accepted to Darden's Class of 1980, but took a year sabbatical after his father passed away.
Singhania has led a multitude of ventures since graduating with his MBA, from working in the fashion industry and launching a line of ready-to-wear trousers to streamlining his family's textile business with the use of computers. Today, he is in the process of publishing a book on implementing productivity transformation and has founded a web-based company to help others set up and register businesses in Dubai. He chose Dubai because he wanted to test his skills in a different country and, after researching, found that the United Arab Emirates required the lowest capital investment to start a business and was the easiest to obtain a resident visa, allowing both him and his wife to start a new life.
When asked about trends in businesses wanting to set up services in the UAE, he said he has customers from all over the world with the U.K., India, the Middle East and Africa all well represented on his client list. He also said that the government is encouraging tourism-related businesses to set up in Dubai. He explained that a huge driver of this is the Expo 2020, a global fair for countries to celebrate innovation and human ingenuity, which will take place in Dubai.
As for advice he would give to individuals considering working abroad, he thinks that the best way to do it is to keep an open mind.
"Don't judge on the basis of how you were brought up," he said. "What is and isn't effective in business in a new country may be different — how to motivate people, close a sales deal or even get to know another person."
He said the best way to learn about other cultures is to find friends and ask their advice and opinions.