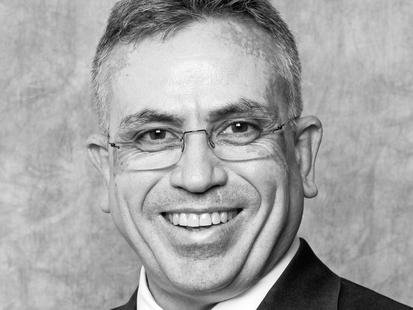 Nic Labuschagne
MBA '89, Senior Director of Strategy, APCO Worldwide
Originally from Durban, South Africa, Nic Labuschagne (MBA '89) worked in South Africa, the U.S., the U.K. and Japan before settling into the Middle East in 1999. He has served as the senior director of strategy for APCO Worldwide in Dubai, United Arab Emirates, since 2014.
What were your early years like?
I grew up in apartheid South Africa, and this had a deep and lasting impression on me. I was fortunate to receive a good education, and I made the most of it both academically and athletically. I loved reading and spending time in the outdoors — hiking in the Drakensberg Mountains and bodysurfing at our local beach were my favorite pastimes. From early on, I developed a deep interest in international affairs, and while I initially studied chemical engineering — I had been encouraged to have a "proper" job — I continued to build my knowledge in this space. When I had the opportunity to study at Darden, and to potentially work abroad, I jumped at it. 
Why did you decide to pursue an MBA at Darden?
I wanted a world-class MBA that would open doors for me to develop a career in international business.
What are a couple of favorite memories from your time at Darden?
My fondest memories are of Friday evenings at my friend Geir Lie's (MBA '88) apartment. This institution lasted for most of my stay at Darden. He and his wife, Carol, took care of all of the unattached international students. And taking care of meant lots of home-cooked food, lots of beer and plenty of laughs. They were our home away from home. 
One of my other favorite memories was of Darden Professor Emeritus Les Grayson, who delivered sessions on international business. Les was a seasoned international businessman, with a wickedly dry sense of humor. He could not tolerate parochialism, and on more than one occasion made clear to one of our hapless classmates that there was a whole world beyond the Atlantic seaboard of the United States. Les went on to lead the MBA/MA in East Asian Studies dual-degree program, and I was fortunate enough to be selected and mentored by him during my period in Japan.
Tell us about your current role in APCO worldwide.
I am the senior director of strategy for APCO Worldwide in the Middle East region, and my primary responsibility is to manage crises, issues and change interventions for our clients. Living in this region, there is no shortage of any of those three. I also work with a small specialist team that sets up strategic communications functions for governments across the region. It is a bit like building a car while it is running along the road, sometimes with dangerous potholes along the way.
What began your interest in working in emerging markets? How has working around the world influenced your worldview?
Coming from Africa, I have always been comfortable working in developing markets. I have worked in the U.S., U.K., Japan and the Middle East, and have found the Middle East to be by far the most complex and multi-layered environment in which to operate. I have been here 18 years and I still learn something new every day. A few years ago, I was introduced to the concept of intercultural intelligence, which provided me with a framework that really helped me understand what was going on around me.
What kind of impact do you aim to make through your work? What does success look like to you?
Strategic communication is all about influencing people to change their behavior — sometimes it is directed at the clients' target audiences, and sometimes it is the clients themselves who realize that they need to change. I have been fortunate to work on a number of initiatives, including one in the human-rights space and another in the counter-radicalization space, both of which yielded significant positive outcomes. Many people's lives were changed for the better and, in some cases, saved. And not just people. During one of my projects, we persuaded one of the local governments to build and fund the first privately operated animal shelter in the region. There are many rescue dogs happily rehomed as a result of this project.
What does success look like to me?  It is hard to tell in our business. We plant the seeds and sometimes only get to see the trees years later. Amidst all the chaos in the region, there are good people who are trying to push it in the right direction. We invest a huge amount of our time and energy supporting them, in full knowledge that one mishap could bring it all tumbling down.
What advice would you give to future global leaders?
Never stop learning. Make it a lifelong habit to constantly upskill knowledge and learn new skills. We are faced with unprecedented change in our social, political, economic and ecological systems — some of which will totally disrupt life as we know it. You need to be able to solve complex problems and manage those that cannot be solved, think critically, be creative, and learn to cooperate with people across cultures and time zones. Think much more of "us" and much less of "me."
What's next for you?
I intend to establish a think tank that focuses on the issues emerging from the nexus of climate change, food and water security, and terrorism. Its core competence will be explaining complex issues to a broad audience in a way that will trigger behavioral change. If there is bandwidth, I would really like to round off my studies with a doctorate in large systems change management.