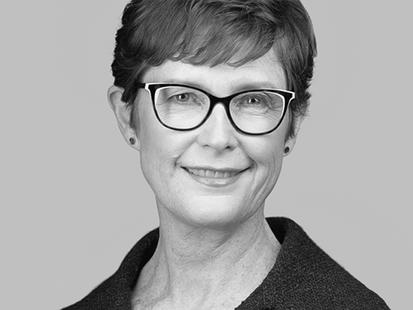 Nancy Lyons Callahan
MBA '84, Global Vice President of Strategy, SAP Digital Business Services
Nancy Callahan (MBA '84) is the global vice president of strategy and growth for SAP Digital Business Services, which is the services and support arm of German multinational SAP responsible for €15 billion in annual revenue. She spearheads the digital transformation of SAP DBS by evolving, communicating and executing global strategy.
Callahan pursued an MBA at Darden because of the School's emphasis on general management and ethics. Entering with an undergraduate engineering degree, she wanted to broaden her business and leadership skills to contribute to society through the constructive force of business. Her interest in ethical business practices naturally evolved from her service as chair of the University of Virginia Honor Committee as an undergraduate student. 
While at Darden, she learned that, unlike engineering, there is rarely one right answer in business. Sometimes, the answer is the one with the best outcome given current conditions. She also learned the importance of teamwork and feeling comfortable leaning on the expertise of others because there is never enough time for any individual to master all relevant information before making a decision.  
She became interested in a global career watching her father travel for business. It was this interest with international business that led her to join Reuters, a truly global organization, two years after Darden.  When Reuters asked her to consider an assignment in France, she and her husband were already prepared to enthusiastically say, "Yes! How soon do we leave?"
Callahan recently completed a second international assignment — 16 months in SAP headquarters in Walldorf, Germany.
"In both France and, more recently, in Germany, I valued being embedded in a different culture because it takes time to get to know people and to better understand their values; work style; and the unique social contract between employers, employees and government in a different country," Callahan said. "After a few months, you really feel like you've got a good understanding, and then, as time goes on, you realize that you really just scratched the surface.'
While in Germany, she was reminded that, "although English has become the language of business and technology, and we all have access to the world wide web, there are still important differences that we, as business leaders, need to respect and understand to successfully provide better outcomes for our customers."  
Callahan's advice for future leaders is to explore opportunities to work internationally. She feels that all businesses are global and that working abroad can only make you a more well-rounded employee. Callahan also added that you should "invest in your own resilience. Over a career, you will have ups and downs. Prepare for both. Give back, pay it forward, lead by example and be intentional."