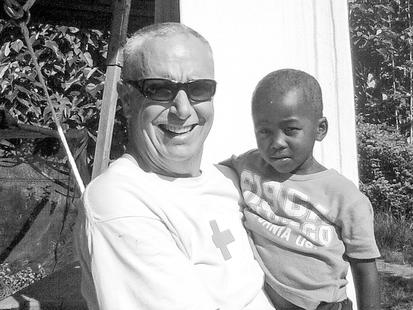 Mike Messick
MBA '76, Volunteer, U.S. Peace Corps
Industry
Government/Nonprofit
Some go to South Africa for the safaris, some go for the surfing, and then there's Mike Messick (MBA '76), who went as a member of the U.S. Peace Corps following a 29-year career at IBM in order to serve as an accounting specialist and teacher-trainer for eight secondary schools in the Jama Circuit in KwaZulu-Natal.
The young student who joined the Darden community straight from undergrad at Northwestern University in 1974 at age 21 probably couldn't have envisioned where his career would take him when he first stepped on Grounds. "I'm not certain, but I believe I was the youngest in our class and one of the few students in my class with no business experience of any kind," Messick said.
Since graduating from Darden in 1976, Messick has put his business education to work nonstop in various companies and countries. He served in the Peace Corps through two separate stints from 1976–78 and 2010–15, with numerous roles at IBM in between. 
Tell us about your early career.
Upon my Darden graduation in 1976, I accepted a position as a small business advisor with the United States Peace Corps in the eastern Caribbean island nation of St. Lucia. I vividly remember leaving the U.S. for a month's training in Bridgetown, Barbados, only six days after I graduated from Darden. I served in St. Lucia for 24 months, during which time I wore many hats, including assistant to the Minister of Trade, Industry and Tourism; industrial loan officer for the St. Lucia Agricultural and Industrial Bank; and small business consultant for local business in St. Lucia.
Each of these positions was a great experience for me as a new Darden grad — young and looking to get my feet wet. During my time in St. Lucia, my responsibilities ranged from working with capitalists from the U.S., Canada, and England to set up manufacturing operations in St. Lucia to working with locals on how to manage loan applications and proposals as well as small business marketing, financing and operations.
What began your interest in working globally?
My wife, Gail, and I have always been strongly interested in other countries, cultures and ways of life. Gail graduated from Ohio State with a degree in Russian and lived in the Soviet Union for several months in 1972. We both really like to travel and to immerse ourselves in other cultures. We have always deeply believed that living and working abroad is exciting, fun and enriching.
How has working overseas impacted your worldview and how has your Darden education had an impact on your work overseas?
Since graduating from Darden, I have worked overseas for eight years total. Working in other countries has allowed me to realize that, at the end of the day, almost everyone has similar ambitions, goals and desires for their families, their children, their grandchildren. My time at Darden built the foundation upon which my overseas work could take place. Many, many times while struggling with my work abroad, I thought about lessons learned in Monroe Hall from Darden faculty including Almand Coleman, John Colley, Bob Fair, Chris Gale and others. I traveled with Coleman's "Financial Accounting" textbook and carried [Professor Louis] "Rader's Rules" with me everywhere — and still do to this day! The two rules that I've etched into memory are:  "never run out of money or credit" and "if you don't get the facts, the facts will get you."
What were some early leadership lessons you learned?
Both early at Darden and early in my career path, I learned that reasoned, well-thought out decisions are founded on fact, analysis and reflection. Sometimes the "right" path is easy and sometimes it's hard, but the decision is always sound if it is based on facts, analysis and reflection. That is another lesson Louis Rader taught us in his rules that I've taken to heart.
What do you consider your greatest achievement? How do you measure success?
I have had a lot of great opportunities since leaving Darden in May 1976. I think my greatest achievements are appreciating every challenge, enjoying a little success, learning from a little failure, and realizing that while scorekeeping is important, it is also important to enjoy the ride and to be passionate about your mission.
I measure success by looking at how much I am accomplishing with my time. Everyone needs some "coin of the realm," as Almand Coleman would say, but I need to be in a situation where I am doing some good. Thankfully, I have had the opportunity to earn a few coins and to do a little good along the way.  
Describe a moment when you realized the true value of your Darden education.
There are too many moments to describe, but one of them would be the four years I worked at the Pasture Valley Children's Home helping to care for AIDS orphans in Swaziland. When I arrived at Pasture Valley, there were 22 orphans in this private home. By the end of 2014, we had 44 orphans. I was on board for about one week when I was asked to serve as general manager/general contractor for several construction projects on the grounds — work which involved operations, accounting, finance, project management, labor relations, etc. At the same time, we were creating internal management systems for all aspects of the children's home — academic records, medical records, housekeeping, meal planning and more. We had ideas about what we needed to manage, but we had no templates. My Darden education was especially valuable to me as the Pasture Valley team and I worked on these critical projects.

What advice would you give new Darden MBA graduates?
This is easy for today's grads in today's world:  Regardless of your career, your function, or where you start, think big and think global — the world really is flat.