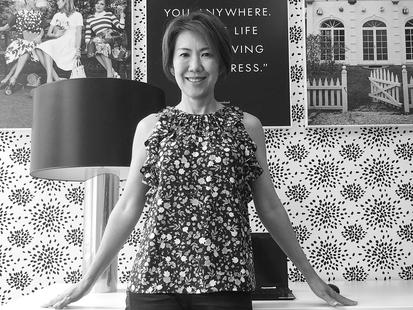 Miho Sugimoto
MBA '93, Senior Director, Marketing and Creative, Kate Spade
Double Hoo Miho Sugimoto, who graduated from the University of Virginia in 1991 and the Darden School of Business in 1993, has carved out a successful career as senior director of marketing and creative at iconic fashion brand Kate Spade. However, she wasn't sure the fashion industry was for her at first. She came to Kate Spade after several years working in marketing at companies like Starbucks and Coca-Cola.
"I was skeptical at first, but they convinced me that the fashion industry is moving really rapidly and that attitudes toward fashion have been changing, especially within the price range of a brand like Kate Spade," she said. 
Now, she flies between Japan and New York City, directing Kate Spade's marketing efforts on both sides of the globe and overseeing everything from how products are presented in stores to how the company uses data analytics to attract new customers. And she loves it.
"What I enjoy most is the speed and the innovation when you bring a product to launch," she said. "We have stores around the world, and if you want to improve something, you can often make the change very quickly and see results in one or two days."
Sugimoto describes Kate Spade as "affordable luxury" — the kind of product that she bought when she was graduating from Darden and ready to enter the workforce.
"I saw this bag that was black and square, very traditional, but that had this polka-dotted red liner," she said. "It was fashionable, but functional — smart, playful, powerful and fun."
"I'm so glad that I made it full circle, and I'm now helping keep that brand relevant today."
Having just celebrated her 25th Darden reunion, Sugimoto says she is still applying lessons learned at the School in her career today, such as keeping her focus on people first.
"It is always people who drive the business and matter most," Sugimoto said. "Creating an environment where every team member can exercise leadership in their area of expertise and feel valued is becoming more and more critical in a rapidly moving world that demands agility and creativity."