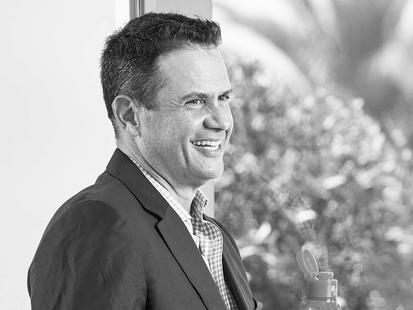 Miguel Fernandez
MBA '01, President and CEO, Tupperware Brands
Darden Grad Named President and CEO of Tupperware Brands
Born and raised in various cities around Mexico and the youngest of three siblings, Miguel Fernandez (MBA '01) says his childhood was "full of love, attention, role models, and clear definition of right and wrong."
He says he was raised in an environment in which results and, more importantly, efforts were rewarded. "Good deeds were rewarded, and the bad ones were dealt with. But I felt — and I still feel — that I was and am loved by my whole family."
Fernandez says that this environment shaped who he is and provided a strong foundation for everything he does. In March 2020, Fernandez was named president and CEO of Tupperware Brands after previously serving as global president of Avon. He lives in Orlando, Florida, with his wife, Thelma De la Peña-López (MBA '01), and their two children, both boys.
What brought you to Darden?
I wanted a top-notch school. I was fortunate enough to be accepted in a few of the top schools in the U.S., but I chose Darden because it best fit my way of seeing life; a place where I would not only get the best education, teachers and a great job offer, but also where the community was important and I could build long-lasting relationships. A place where people cared about people.
What do you remember most from your time at Darden?
It was the two best years of my life. I remember always being challenged in some way and always enjoying myself and having fun! Learning about business and about myself, absorbing and growing — it was like condensing 10–15 years of experience in those two years.
What is the most important thing you learned from your Darden experience?
I obviously learned so much in so many different aspects of business, but the most important thing is that I learned a lot about myself. Darden's environment is one full of bright, hungry minds, guided by experienced and knowledgeable professors who demanded my talent, time and energy. That environment taught me lessons around life, self-reflection and humility. 
What do you think makes a successful, global leader?
It is a combination of many things, but I believe that the ability to provide a clear vision and strategic precision and focus the execution in activities that make the biggest difference are the keys to succeed globally. This is easier said than done because you normally face completely different market conditions from country to country, and your local management team is different with various capabilities. With relatively little information, you must judge if you have the right resources and position to win in a market. In the end, everything comes down to people and your ability to bring out the best in them under different circumstances.
How would you define your leadership style?
Based on many years of feedback and some self-reflection, I would say I have a coaching versus directive leadership style. I start from a place of trust. I feel I empower my team, and I trust that they will make the right decisions. But I do flex my style and step in to provide direction and advice when I see they need it or when there is a need to drive higher levels of business performance. A lot of it is leading by example. I hold people to high standards, but I hold myself to even higher ones. I like taking people along the way with me. Even if the strategy is clear in my mind, I will not impose it. Instead, I will have the conversation and be inclusive. I am always open to new ideas and to adapting my own with my team's feedback.
I encourage my team to be curious, to ask questions and to continually learn and experiment. I believe it more important to experiment and fail and learn quickly versus waiting for perfection. I am highly commercial, analytical and data-driven, and I encourage the organization to get data and insights, too.
I have integrity and values and always try do the right thing. At the same time, I try to keep myself humble and like to give my team all the credit. I do not like to be in the spotlight; I would rather be in a small group advising and coaching people versus on stage.
A big part of my job is to constantly bring out the best in people and develop them. I am always willing to put the time into their learning and growth. All I ask in return is hard work and high effort and that you always do your best.