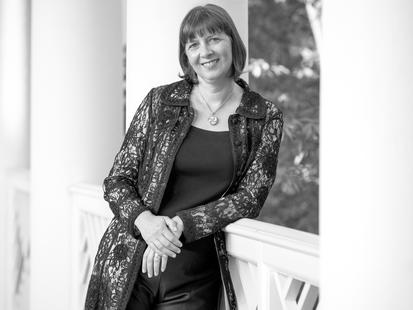 Martina Hund-Mejean
MBA '88, Former CFO, Mastercard Worldwide
As Chief Financial Officer for Mastercard Worldwide, Martina Hund-Mejean (MBA '88) oversaw accounting, controls, tax, internal audit, investor relations, strategy, M&A, financial planning and analysis, treasury, risk management, global supply chain, business unit finance, and regional finance.
Hund-Mejean received a master's degree in economics from the University of Freiburg in Germany and an MBA from Darden. She has been named one of the "100 Most Influential People in Finance" by Treasury & Risk Management magazine on three occasions. Hund-Mejean is a member of the board of directors of Prudential Financial Inc. and is the chair of the Darden School Foundation Board of Trustees.
What was your first job?
Dishwasher at a fish restaurant at age 13.
What's the best advice you have ever received?
Always try different things and don't give up easily (especially when you are stuck in the restaurant kitchen washing dirty dishes!).
What motivates you?
Difficult situations and ski slopes.
What is your most marked characteristic?
Being straightforward and direct. "You get what you see."
What's your current state of mind?
Time is too precious to waste.
What are you reading these days?
Wikinomics from Don Tapscott, which explains that masses of people are participating in the economy like never before due to the digital age. I believe a lot of this could not happen without a sound electronic payment system like MasterCard provides.
What companies do you admire?
Apple, with its consumer-focused innovation machine.
How do you stay ahead of the competition?
Obsess about what you don't know.
Which natural talent would you most like to have?
I would like to be able to dance.
What have you recently uploaded onto your iPod?
My 12-year-old son is my iPod caretaker. Recently, he uploaded the latest songs from Coldplay, Adele, The Black Eyed Peas and Sean Kingston.
How do you unwind?
Cooking, reading, playing with kids/hubby, sports.
If you could live anywhere, where would it be?
Right where we live, New York City — best city in the world!
What do you lose sleep over?
The world.
Who's your favorite action hero?
James Bond.
What's your favorite food and beverage?
Wine and cheeses, pâtés.
How did Darden get you ready for your career?
It taught me critical thinking and effective debate skills.
Which class at Darden impacted you the most?
"Organizational Behavior" with Jim Clawson.
Looking back, is there a class you should have attended and didn't?
"Corporate Finance" (sorry, Dean Bruner!).
If you could go back and take a class now, what would it be?
"Corporate Finance" (seriously!).