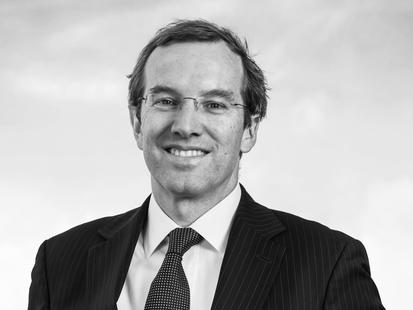 Manuel Irarrazaval
MBA '00, Country Head, NoBraMex, Bank of America Merrill Lynch
While most trajectories in life are not straight lines, Manuel Irarrazaval (MBA '00) has jumped across several different paths — from switching continents to shifting from the energy world to investment banking. But he views his experiences as assets that have allowed him to speak cross-culturally and across industries. Today, Irarrazaval is the managing director for Bank of America Merrill Lynch for all of the countries within Latin America except for Mexico and Brazil. 
What was your childhood like and how has it shaped who you are today?

I was born during turbulent times in Chile in 1968. Two year later, Salvador Allende, a Marxist who admired Cuba and was determined to turn Chile into a socialist state, was elected president of the country. My father, a heart surgeon, took an opportunity to go to the U.S. for his training. It was hard for my parents. Our extended families were still in Chile, and my parents did not know what was going on. I remember that one of the few communications we would get from Chile were tapes my grandmother recorded telling us what was going on back home. 
My family in Chile were very traditional, large landowners. They lost almost everything during the country's agrarian reform when the government expropriated and divided haciendas— large farms — among the workers. Both sets of my grandparents had to start again from scratch. That helped me realize that you cannot take anything for granted. 
We came back to Chile when I was 12 and stayed for the rest of my childhood. At first, I struggled in school because I did not speak Spanish. We traveled frequently to the U.S. to visit friends. Growing up in a traditional Chilean community while keeping a foot in the U.S. really shaped the way I am. It has allowed me to bridge both worlds more effectively, which has been an advantage in my career. 
What brought you to Darden?
What caught my attention about Darden was that it was described as the "boot camp of MBAs" — the toughest program available. That is what drove me. I love a great challenge. 
But besides that, when considering an MBA, I was looking to complement my previous experience. I had a background in environmental engineering, focusing on ground water contamination and bioremediation. After completing my Master of Science, I worked for a local investment company helping them buy water utilities. I had helped turn around a quasi-bankrupt water utility, and in this process, I liked the idea of managing companies. So, when I considered an MBA, I wanted to get a strong general management experience, which is what really attracted me to Darden. 
Describe a time when you realized the true value of your Darden experience.
If I had to choose one class and teacher that really had an influence on me, it would be Professor Bob Bruner and his M&A class. Toward the end of the course, he gave us mugs with "M&A Proverbs." There was one quote — a concept he repeated in class — that always resonated with me: "Take a view."
Over the years, I learned to appreciate that in my professional and personal life. It is always safer to keep your options open and not express an opinion, but that does not help whatever process you are in. 
Describe your career after Darden.
After Darden, I took a job in Spain with Endesa, the energy company that had taken over the company in Chile where I worked before Darden. Endesa had expanded into Latin America and Europe, and their sights were set on the U.S. My family and I spent the next years between Madrid and New York. But then, the emerging market crisis came. At the end of 2001, Argentina defaulted on its debt and that pulled all of Latin America into a crisis. I was asked to come back to Chile and join Endesa's team negotiating the financial restructuring of the company. It was amazing and humbling to go from one of the main companies in the region to the edge of bankruptcy.
After that, I took a job at Santa Rita, a local vineyard that was having similar issues, although at a much smaller scale. I spent a couple of years turning the company around, but once the financial issues were solved, I needed further challenges, and I went back to Endesa as CFO of their Latin America power generation business. 
At Endesa, I continued to spend most of my time involved in "financially challenging situations." I was getting comfortable at Endesa when a friend at Deutsche Bank asked me if I would consider doing investment banking. My first reaction was "no way."
But this guy was very insistent. When I was considering the change, one of the most useful exercises I did was mapping out what I enjoyed about my work as CFO. There, I realized that I really enjoyed the deal making and the challenges more than the routine and the processes. I think that was a useful exercise I would encourage anyone to do periodically when evaluating their career. 
At that time, Deutsche Bank did not have an investment banking practice in Chile and the proposition was to start one from scratch. I knew this would be a huge challenge, especially because I did not have any experience as a banker! I guess my inexperience helped me take the leap. 
I spent about five years at Deutsche Bank and later took over as country head of Deutsche Bank in Chile. In 2014, Bank of America contacted me. We had several discussions around the scope of the position and the strategy. I proposed that we group all the small countries in Latin America into a new subregion called NoBraMex (Not Brazil or Mexico, not very original!). Bank of America liked the idea, I moved and we set up the organization. 
Bringing together four offices into one organization was difficult but made a lot of sense. We are now the second largest "country" in our LATAM organization. It has been five years now, and we have consolidated as a region and a team. We have gone from a limited investment banking practice in the region to being the main franchise and being involved in all of the most relevant merger and acquisition transactions in the region. It has been a great ride!
How do you maintain balance in your life?
I try really hard to balance work and life; not sure I am always able to do so. I travel a lot, which makes it even harder to balance. I try to keep trips short and never spend a weekend away from home. Technology has also made my life easier.