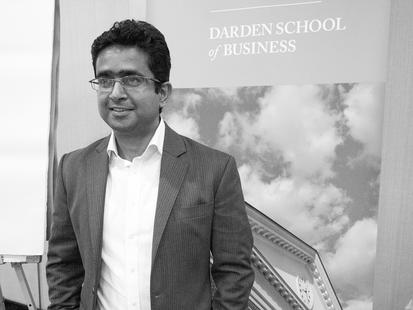 Manoj Sinha
MBA '09, Founder and Owner, Husk Power Systems
Brightening India's Future Through Social Entrepreneurship
Chronic power interruptions have plagued India for years. In 2012, the collapse of India's power grid cast approximately 670 million people — roughly 10 percent of the world's population — into darkness. Although the three interconnected northern power grids were repaired within a few days, and power was restored to the 2,000-mile stretch of India affected by the collapse, major shutdowns like this are not a rare occurrence.
Two Darden graduates, Manoj Sinha (MBA '09), who grew up in Bihar, India, and his classmate Chip Ransler (MBA '09), committed themselves to helping solve India's ongoing power crisis by repurposing an abundant waste product in the region: rice husks.
Sinha and Ransler's innovative idea evolved into Husk Power Systems (HPS) in 2008. By turning husks into biogas, which is in turn used to fuel mini-power plants, they began providing affordable and reliable power to millions of people in India's rice belt. "When we first came to these villages, we noticed children played right after 5 p.m. and they didn't really study or go to school," Sinha noted. "The entire village was covered by complete darkness by 9 p.m.," he said. Providing these families with electricity offered them the opportunities to work and play before dawn and after sundown.
TRAINING AND TEACHING LOCAL POPULATIONS
To run the plants, Sinha and Ransler needed to hire operators from the local community. The pair founded Husk Power University, a technical training institute for aspiring HPS mechanics and operators. "We realized early on that human capital would be key to scaling our business, and it was very hard to get trained people in the villages," said Sinha. "To address this issue, we built our own training curriculum that spans technical and mid-level management training." Students at Husk Power University get hands-on experience through field training, simulations and workshops.
In 2009, Fast Company named Husk Power Systems one of the Social Enterprises of the Year. Since then, it has won several other distinguished awards for its work, including the 2011 Ashden International Award for off-grid sustainable generation.
NEXT STOP: AFRICA
In 2013, President Barack Obama chose HPS as one of only six global companies to be a private sector partner for his Power Africa Initiative, which aims to supply energy to 20 million households and commercial entities in sub-Saharan Africa. Seventy percent of the population in this part of the world is without electricity, and HPS has committed to installing 200 plants in East Africa, which will provide affordable lighting for 60,000 households. Sinha said of the partnership, "We are very pleased to be included in the Power Africa Initiative alongside General Electric and the like, because it is validation of the decentralized model of electrifying rural areas we've created."
The biggest reward for the HPS founders is watching the villages they service come alive at night. "Nothing compares to the happiness I get when our power plants light up houses every evening," Sinha said. "The happiness of seeing children studying at home at 8 p.m. is unparalleled and is very hard to describe," he explained.
Sinha credits Darden for teaching him the skills he needed to overcome many of the hardships he faced while building HPS. "Two years at Darden made me resilient," he said. "That allows me to rise to the occasion no matter how difficult the situation is."
The power HPS supplies significantly reduces indoor air pollution and improves health conditions by decreasing kerosene and diesel use. Based in India, Sinha continues to work hard to ensure that new jobs and access to affordable power will help drive economic development in rural India and beyond.