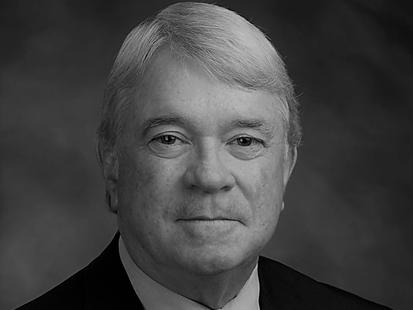 Louis Bissette
MBA '70, Partner, McGuire, Wood & Bissette
Industry
Government/Nonprofit
As chair of the University of North Carolina Board of Governors, Louis Bissette (MBA '70) helped run an organization responsible for 17 institutions, 60,000 employees, 240,000 students and a $10 billion budget.
The post, which Bissette held for three years ending in 2018, was the culmination of a long career in the public sector that began when the banker and lawyer — Bissette holds a law degree from the University of North Carolina — allowed himself to be talked into running for a city council position in Asheville, North Carolina, by a fellow councilor who wanted some camaraderie on the council.
Bissette, who had long been interested in the political process, ran and won, then was subsequently twice elected mayor of the largest city in western North Carolina. 
"I didn't grow up in Asheville, but as mayor I had the opportunity to get to know my city and its people in a way that would not have happened otherwise," Bissette said. "Our main thrust was the redevelopment of downtown Asheville, and the things I learned at Darden really made a difference."
Now a bustling draw for locals and tourists, downtown Asheville had fallen on hard times when Bissette moved to the area in the mid-1970s. The major retail stores had fled, smaller storefronts were boarded up and the area was a ghost town after dark.
Bissette helped lead a coalition of the community interested in a downtown revival, ushering through a bond referendum and channeling urban development grants to infrastructure such as parking garages. Private developers were skeptical of the opportunity at first, Bissette said, but once they recognized the city's strong support, they became enthusiastic partners.
Bissette, a partner at McGuire, Wood & Bissette, has stayed engaged in civic endeavors. He has served on numerous nonprofit boards and as a trustee of Wake Forest University, his undergraduate alma mater.
He recently wrapped up a three-year term as chair of UNC's Board of Governors, a job that entails engaging with a wide array of high-powered constituencies from faculty to students to legislators to athletic boosters. Bissette has served on the UNC system board since 2011 and was elected to the chair position in 2015.
Like mayor of Asheville, it's a position that puts a premium on building consensus to work through often contentious issues.
"It's been an incredible experience for me," Bissette said. "I thought I knew a lot about politics, but I really have recently experienced politics at a higher level."
Bisette says he continues to pursue the public service simply because he enjoys working with people to affect change in areas he believes can make a real difference in his community.
"I've just always enjoyed it. I've always enjoyed learning about new things, and I've always enjoyed people," Bissette said. "I do believe I have been able to keep it in the road and make a difference. My experience at Darden has helped make this possible, and I will always be thankful for my years at the University of Virginia."