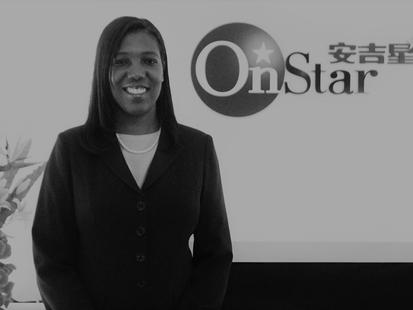 Lois McEntyre
MBA '95, Director, General Motors
Lois McEntyre (MBA '95) has more than 20 years of leadership experience in the airline, automotive, banking and consulting industries, including three years living and working in Shanghai. Driven by a desire to bridge the world, help people and make a difference both personally and professionally, McEntyre currently directs General Motors' North America contact center operations and oversees contact center operations for General Motors Customer Care, Dealer Assistance and OnStar for multiple sites in the U.S., Canada, Mexico and the Philippines. Her team delivers OnStar safety and navigation solutions in vehicles as well as customer assistance, totaling nearly six million customer interactions each month. During her time leading the Shanghai OnStar customer service organization, McEntyre's team won multiple awards, including top honors for call center service and customer service management from the China Service Trade Association.  While living in Shanghai, McEntyre also contributed to the local community through a literacy and English language program. 
What interested you in working/volunteering globally?
I was appointed as the director of subscriber services at OnStar-Shanghai, a division of General Motors in China, in 2011. One of the main reasons I accepted the role is because of the increased scope of work and level of autonomy that would allow me to develop my leadership capabilities. I felt that the experience would be beneficial for my long-term career at General Motors. The decision to accept the role was not difficult because, in addition to the professional benefits, the benefits for my daughters were my primary motivation to pursue the position in the first place. I knew my daughters would get to experience new cultures, see new and exciting things, go to beautiful places, and make new friends with children from all over the world. These experiences are invaluable in terms of the contribution to their education and to their relationship with the world. It has positively changed their lives forever. 
Please describe your involvement in the Sunflowers literacy program in Shanghai.  How did you hear of the program and what made you decide to take part?  
I learned about the Sunflowers during a conversation with one of my employees at General Motors China. I had been living in Shanghai for about six months, and I was talking to her about how I really wanted to find a way to work with the local community in a way that would allow me to learn more about Chinese culture, while at the same time give me the chance to share American culture. The lady I was speaking with told me about this community initiative she was involved in where she and other Chinese people were mentors to children of migrant farmers. They really wanted to teach them English but needed someone who spoke English as their primary language to help. This was my introduction to Sunflowers and I seized the opportunity because I have a passion for helping people. 
As a volunteer with Sunflowers, I facilitated the design of the English curriculum for school age children from the ages of 8 to 12. Every week for several months, we had volunteers from the Girl Scouts of America, Shanghai chapter, read to the children and teach them an English lesson and some aspect of American culture. The work was extremely fulfilling because I was working with children of families who were in need and had minimal resources. I knew that I was helping to enhance their skillset so that they would have more personal, educational and ultimately professional opportunities in their future. In addition, I was helping them build bridges globally.
What were some early leadership lessons you learned?  What's the best piece of advice you've ever received?  
Some of the early leadership lessons I learned during my assignment in Shanghai were about truly understanding the Chinese culture and on the realization that it is critically important to learn the culture in order to work successfully in China. As a non-Mandarin speaking American in China, I had to approach my Chinese partners with humility and demonstrate my best efforts to learn their culture in order to show that I care about their way of life and the way they do business. 
Generally speaking, one of the best leadership lessons I learned during my career is that everyone has their own way of doing things, and that it is important to understand and respect others' styles. The more one understands how others operate and what's important to them, the more it can lead to greater and better outcomes. It is important to be able to utilize situational leadership in order to build strong working relationships and highly effective teams. 
The best advice I've ever received is that the people whom I manage and work with are my best assets. It's important to invest time in building relationships with colleagues and in developing individuals on my team because it takes the entire team to be successful.
Describe a time when you realized the true value of your Darden education. 
I realized the value of my Darden education when I initiated the conversation with my manager about my interest in working in China. At the time, OnStar in China was about two years old. I explained to him why I felt I was qualified, how I thought I could contribute and why I was interested in working overseas. During the conversation, he asked if I understood that the scope of the role would require me to have knowledge of different business functions because Shanghai OnStar was still in startup mode.  When I explained to him that I had received my MBA from the Darden School and that my degree was in general management, he was pleased. That was when I realized the value of my education.
What advice would you give aspiring MBA students or recent MBA graduates?
Based of my global experience, the advice I would give an aspiring MBA student or recent graduate would be to find an opportunity to study or work abroad. The business world is truly global, and you will not get a true appreciation for how other parts of the world operate — which in some cases is in a manner even more advanced than in the U.S. — if your perspective is only from U.S. soil.