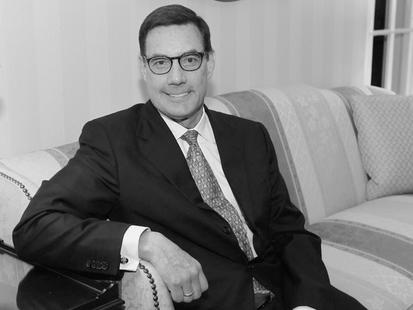 Kirby Adams
MBA '79, Retired from Tata Steel Group
Valuable Lessons From Darden
Kirby Adams (MBA '79) was born and raised in Atlanta and graduated in 1977 from Auburn University with a degree in industrial engineering. From college, he went straight to Darden, making him one of the youngest members of his graduating class. "As one of the youngest students, I was also the least experienced," Adams recalls. "Therefore, I learned a bit of humility — and the value of listening and learning with my mouth closed."
Adams was impressed that the School had received top ratings and used the case method in the classroom. "I had no previous connections to Darden," says Adams. "I liked that Darden gave me a chance to get my MBA without having to start a full-time job. I was in study mode."
Adams has many significant memories of his time at Darden, especially of the people in his class and the teamwork. "One of my finest moments at Darden was representing the School in 1979 in New York City at a national MBA school championship," he says. "Our five-person team was up against [students from] other great business schools in a case method contest. Our case was Joseph Schlitz Brewing. I was nominated as the chair, and we won the tournament with our analysis and presentation. It was a great day!"
Since graduating from Darden, Adams has had a successful career as an international CEO in the petroleum mining and metals industries, helping to build leading businesses in the United States, Australia, Europe, China, India and throughout the world. Some of his key business achievements include growing Australia's BHP Steel into a global leader and restructuring Tata Steel Europe to become Europe's second largest steel company.
"Darden gave me a great generalist management education," Adams says. "The need to consider all perspectives and the ability to present with confidence to a large group ultimately became my best assets as a CEO."
Adams recently retired from the Tata Steel Group. He still values the lessons he learned at Darden. "Empathy, humility and listening will go a long way in business — and in life," he says, "because they are increasingly rare attributes."