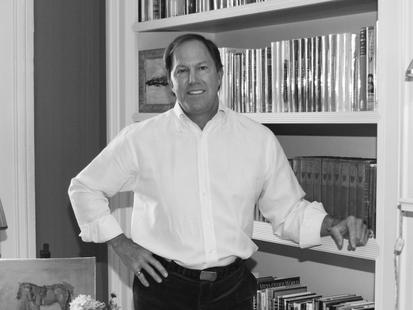 Kinsey Marable
MBA '84, Owner, Kinsey Marable & Co.
Book Wise
Thomas Jefferson once said, "I cannot live without books." Darden alumnus Kinsey Marable (MBA '84) might agree. Marable turned the page on a career as an investment banker at Goldman Sachs for a new chapter, as a curator of private libraries.
Marable specializes in furnishing distinctive libraries that reflect the interests of his clients, who include fashion designer Donna Karan, Jon S. Corzine (Marable's former boss at Goldman Sachs and New Jersey's 54th governor) and Oprah Winfrey.
Others tap into Marable's passion for biographies and books on architecture, fine arts and gardening. While he appreciates the most dusty, fragile antiquated tomes, Marable says, "my motto could be 'books are meant to be read.'" His libraries exalt diverse, colorful books that can be pulled off the shelf and enjoyed.
"It takes time to find the appropriate books and expertise to evaluate their condition," says Marable, who moved his business from Georgetown to Charlottesville. "It could take years for someone to put together a library that I would be able to assemble in several months."