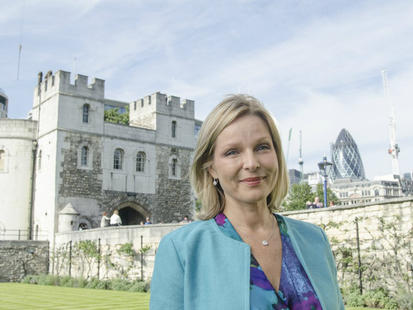 Kim Morrish
MBA '93, Founder, Ground Control Ltd.
From the Ground Up
From her base outside London, Kim Brown Morrish (MBA '93) focuses on growth. In 2004, Kim and her British husband, Simon Morrish, purchased a well-established grounds maintenance company called Ground Control Ltd. They partnered with four of the company's existing directors, who took a risk to invest in the business alongside the Morrishes. The company provides landscape maintenance, construction and design, fencing and other services for national or large regional clients in the retail, utilities and public sectors. Its customer list includes more than 31,000 commercial sites of organizations like Tesco, Anglian Water, Network Rail and even the Royal Mail.
Since 2009, Ground Control has grown from $15 million to $100 million in revenue and from 60 to 500 employees. As the company has grown, so too has Kim's family — she is the proud mother of four children.
Morrish, who began her career in the U.S. Foreign Service, discusses entrepreneurship, social mission-driven careers, women in leadership and the oh-so-delicate work-life balance.
When you graduated from Darden, what were your aspirations?
I wanted to make a positive difference in the world. This ambition began while attending UVA, where my studies in international relations drove my aspiration to join the U.S. Foreign Service. After working in international development, I realized what an exceptional gift an education is in this world. I took two years of leave without pay from the Foreign Service to gain formal, commercial management training at Darden.
What was your next career move?
After Darden, I returned to my career with the U.S. Foreign Service to run development projects in Bolivia, which at the time was the second poorest nation in the Western Hemisphere. I extended my time there for a third year to work primarily in micro-finance, which provided sustainable, affordable access to financial services to small and micro businesses. I then spent two years working and living in emerging markets in Central Europe and Central Asia.
I then moved back to Washington, D.C., and was recruited by the German firm IPC GmbH, which specialized in setting up micro-credit banks around the world. It was my dream job — a leadership role in a global, commercial enterprise that made a positive impact on people with limited opportunities or access. I set up IPC's Washington subsidiary, handling operations, branding and marketing, staffing international projects and establishing financial controls to qualify the company to work as a U.S. government contractor.
After working on projects in Haiti and Bosnia, I was running a project in Jamaica, during the 1998 banking crisis where all of the indigenous banks had failed. We were trying to preserve a small business loan program. It was in Jamaica that I met my husband, Simon.
When did you launch your first entrepreneurial venture?
While in Jamaica, Simon and I identified what we believed was a great business opportunity to create a real estate portal online in the U.K., which did not exist at that time in any form, either online or offline. After a few months of research and the development of a business plan, we both quit our jobs to start How-Smart.com, which was similar to Trulia or Realtor.com, but 14 years earlier and in the U.K.
What was the most important lesson you learned from that first venture?
Surround yourself with the very best people you can. 
What circumstances led you to buy Ground Control?
We moved to Boston for 18 months while Simon completed his MBA at Harvard Business School. On a whitewater rafting trip, we learned about the concept of setting up a search fund to purchase an existing business — a management buy-in. Having gone through the blood, sweat and tears of a startup, this sounded like a much better approach to owning and running your own business. So, we returned to London and spent the next year looking for the business. We also had our second child.
I told everyone — and I mean everyone — about our aspiration to buy a business. I met with business brokers and accountants, reviewed all of the businesses on the market and attended seminars. Ground Control actually came to us through Jeff Bocan (MBA '00), a friend and Darden alumnus who was working in private equity in London and mentioned the opportunity to me one night over dinner.
The next step was to secure financing. As a buy-in team without industry experience, we needed a compelling and comprehensive plan to convince the seller to sell to us and to raise financing to pull the deal together.
How has your role at Ground Control evolved?
I focused my first years on business development and hiring the very best people we could to support our growth. Both responsibilities depended on my ability to sell. I was selling our business to clients and ensuring that we were growing with them, and I was selling our business to potential employees and allowing them to grow with us. My role has evolved from selling and recruiting to a focus on creating and driving a culture which recognizes that people are the single most important contributor to our success. So many of the people who have joined us, especially our senior team, are truly exceptional, and the most rewarding aspect of my involvement in Ground Control has been working with them over the past nine years.
What makes entrepreneurship a great career path?
There are few career paths that allow you to achieve your dreams, write your own rule book and put you squarely in charge of your success or failure. I've worked in many cultures and countries where my gender, age and skin color mattered. I know the challenges of trying to balance a family with career aspirations and the sacrifices and compromises required.
I love that as an entrepreneur, I can wake up every day and focus on making a positive impact on the people in our business.
Can you have it all?
You can, but not necessarily at the same time. I was lucky to start my career in the U.S. Foreign Service, where I could work to create opportunities for the disadvantaged. At Ground Control, it's been rewarding to run a business committed to caring for our environment, supporting hundreds of small businesses that employ several thousand people who carry out work on our behalf. We also fund a wide range of charities through matching grants for our 500 employees in their fundraising activities.
Of all of the challenges, heartbreaks, successes and joys of the past 20 years, by far the greatest achievements have been my partnership with my husband and being a mother to my four wonderful children.
Thanks to the remarkable team we've built at Ground Control, I've been able to step away from the business at times and focus on my kids and shaping the way they view the world — whether during maternity leave or school holidays, or when the kids simply need and deserve more time from me. Likewise, all four children are supportive and understanding when the business demands my time and attention.
It's worked. Not without a lot of bumps and sleepless nights. I've evolved as the business and my children have grown — to better respond to their needs and also to grow myself. Just when I think I am on top of my game, the business experiences a whole new set of challenges due to growth. It's the exact same with the children. Needless to say, there's never a dull moment and no chance of feeling overly confident that I am getting it right.