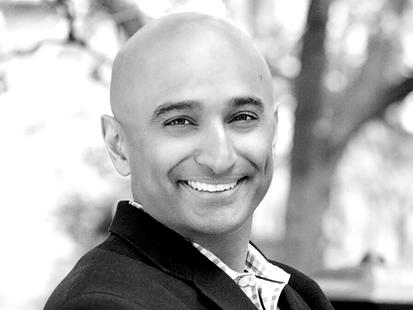 Khurrum Malik
MBA '07, Head of Global Business Marketing, Spotify
Areas of Expertise
Digital Marketing
Curiosity Custom-Made for the Digital Age
His father's dream to travel the world sparked the curiosity that Khurrum Malik (MBA '07) has carried since he was a young boy. 
Curiosity still motivates him as head of marketing for Spotify's advertising business.  
"Digital is exhausting and exhilarating at the same time," he says. "It is driving so much change and evolution in media and business models. If you're endlessly curious and have fun with change, digital is the place to be."
 
Born in Pakistan, Malik lived with his family in the Middle East before immigrating to the United States when he was 14. After earning a bachelor's degree and master's in IT from the University of Virginia, the soon-to-be triple Hoo enrolled at Darden to earn an MBA.
He wanted to know how the technology he loved so much powered a company's revenues. In his first job after graduating, he found out. At Microsoft, Malik was asked to build a pricing model to grow the company's Exchange software line—which already generated $1.4 billion in profit—by 15–20 percent. He quickly realized the direct effect that technology levers in marketing could have on the bottom line.
It was the beginning of a rich career in advertising technology, or ad tech, the software that brands use for highly targeted digital advertising. After serving in leadership positions at both startups and massive corporations, Malik returned for a second stint at Spotify last August to become head of marketing of its growing advertising business. He leads a global team of 150 that helps companies of all sizes see how advertising on the platform can help them reach their current and potential customers.
Malik says his career is built on themes that emerged at Darden. He remembers Professor Paul Farris exhorting his class, "I expect marketers to be as financially astute as bankers, and then be marketers also. Marketing is more math than you think."
"He was right," Malik says. "I purposely took a ton of finance classes and a lot of data analytics classes."
He also recalls the words of Professor Ed Freeman: "I'm going to teach you how to enjoy the moments of life. You've been living in data and bullet points, and you're going to accelerate and you're going to forget to smell the roses."
Freeman's lesson "was about using the muscle of appreciating the moment and not turning everything into data," Malik says. "Darden is a purpose-driven school. That's a big part of it. They don't just do things to get an economic output. They do them with purpose. That makes it a special place."