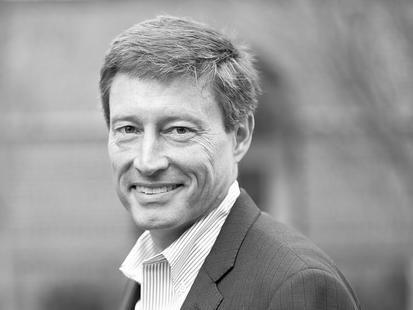 Kevin Watters
MBA '94, Former CEO, Chase Card Services
A Big Easy Decision
New Orleans was calling. University of Virginia Darden School of Business alumnus Kevin Watters (MBA '94) could hear it, even from his office as CEO of Chase Card Services in New York City.
After 18 successful years rising through the ranks at JPMorgan Chase, including turns leading the company's internet banking, mortgage banking and the Chase credit card businesses, the call started sounding like sweet music.
"My wife and I planned to move to New Orleans at some point," Watters said. "She started going to Jazzfest before we got married, and she said she'd only marry me if I promised we'd go every year. We've only missed one in 21 years."
With his eldest daughter, Emma, now a freshman at Tulane University and two high school-age children, Mary and Seamus, Watters made a decision that surprised many — to retire from JPMorgan to spend more time with his family before his children move out.
Watters said he honestly hasn't thought about what's next in his career. Instead, he's focused on taking at least a year off while the family remains in New York until his two youngest finish high school. During that time, he said he'll take on more family responsibilities, help coach a local running team and spend more time with the family at their second home in New Orleans.
Watters expects they'll take in plenty of concerts in the Big Easy. He enjoys the unique style of musicians like Kermit Ruffins and The Revivalists and the pure diversity of music available in the Crescent City. He also expects to run "one or two marathons and an ultramarathon." Watters has come within two minutes of breaking his goal to finish a marathon in less than three hours.
Watters looks back at his time at JPMorgan fondly. He's most proud of the talented people he helped bring to the bank.
"When I look around at key leadership positions in Chase and throughout the firm, I've been able to recruit and train and retain some very talented individuals," Watters said. A member of Darden's Corporate Advisory Board, he credits the School with helping him become a critical thinker and understand how an area like talent development is essential to the success of the whole enterprise.
If Watters had to point to one business success, he's most proud of the turnaround he led as CEO of JPMorgan's mortgage banking unit. After the financial crisis, it had hemorrhaged $17 billion over four years. During his leadership from 2012–15, Watters led a turnaround that not only took the business off life support, but made it a "great business for JPMorgan for as far as the eye can see."