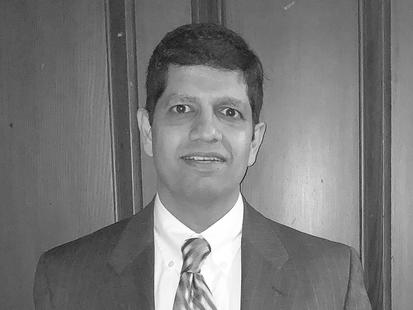 Karun Tahilramani
MBA '04, Founder and CEO, Ratingsville
Industry
Entrepreneurship
Before coming to Darden, Karun Tahilramani (MBA '04) took a job as an investment banker for JPMorgan after graduating from college with a degree in chemical engineering. Watching his peers be wined and dined by other consulting firms during their job searches, he thought to himself, "Why not give it a try?" He was a young 20-something who wanted to travel and this job gave him that opportunity.
Like many people, Tahilramani returned to school as a means of job security. The economy was declining into a recession and he did not want to lose his job and waste time waiting for the next thing. He felt lost. So when he was accepted to Darden, he again thought to himself, "Why not give it a try?" 
Tahilramani has two favorite memories while at Darden. When talking about his experience with his learning team, he said, "They almost became family. They were, without a doubt, what made my time at Darden. They are what made Darden amazing and impressionable." He also truly loved his experiences with the variety of clubs Darden had to offer. He participated in the rowing club and felt he developed his leadership skills through hands-on experience. He describes his time with the club as "the one time I felt I wasn't the underdog. I wasn't the inexperienced guy. I actually had something to impart to somebody. I had legitimate, valid experience that I could leverage and bring other people into that. And it was my chance and my opportunity to create an environment that I'd like for myself."
He went to work for Enel Green Power as a senior finance officer, though the lesson that most affected him did not come from an accounting or finance class. It came from an innovation and entrepreneurship course he took on a whim. The class changed his definition of what innovation is — not only did it include improving something that already exists but also dreaming up the nonexistent. This change in thought gave way to the possibility for him to leave his comfortable job and pursue something he was more passionate about.
Tahilramani began a new journey by leaving his career at Enel and becoming a stay-at-home dad to support his wife's professional aspirations. While on sabbatical, he and his wife struggled to find reliable information on quality child care centers for their kids. It was through this experience that he remembered what he learned in his innovation and entrepreneurship class and an idea began to form. Now, he has founded Ratingsville, a technology startup aimed at helping parents experience a better process for finding suitable child care for their children.
He said the biggest challenge he faced while starting Ratingsville was finding the right talent. "I don't just want to hire people for the sake of hiring people. I want people who both believe in my vision and will challenge me if they disagree with my opinion, those who will demonstrate the highest standards of ethics and come to the table with a passion to leave this world a better place for future generations," Tahilramani said.
When asked about the best piece of advice he ever received, Tahilramani had an interesting perspective. "Some of the greatest advice I have ever received somehow overlaps with the mistakes I've made in my life over the course of my career. When I look back, as much as I disliked them in the moment, I think to myself that those who took the time to reprimand me made me who I am today." He learned that to make something great, you cannot cut corners. If something only makes sense to you, the creator, no one will use it. When building something for someone else, he also stressed the importance of being flexible. If something is not working, instead of forcing it to work, it may just be easier to start from scratch.