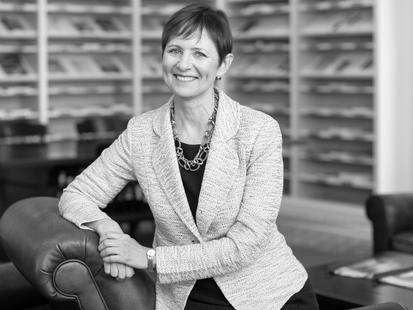 Karen Edwards
MBA '84, Partner, Boyden
Cultural Curiosity Leads to Successful Consulting Career
As an undergraduate at Carleton College, Karen Edwards (MBA '84) began her future career in finance in an unusual way: as a French language and literature major.
"I wanted to go to France," said Edwards, whose parents moved to Germany while she was in college. "Majoring in French literature seemed like the easiest way to get there."
Thirty years later, the chair of the Darden School Alumni Association Board of Directors and CEO of Kosiba Edwards Associates cites her curiosity about other cultures as key to her success.
"As an investment banker, I was always fascinated to learn about different companies and cultures and what made them successful," said Edwards. "If I had to raise capital or do a merger, I wanted to hear what made a particular company unique and valuable."
Today, Edwards serves on public company boards as well as consults in strategy and finance for privately held companies. "I feel very fortunate to have benefitted from participating in a capitalist society, and part of how I think I can give back is serving in a director capacity to make sure that we continue to have trust in our corporations and institutions," she said.
Edwards' initiation into the value of capitalist leadership began when she enrolled to earn her long-awaited MBA in 1982.
"I decided it was time to go and learn all the things I felt I needed to know to be better as a stockbroker," said Edwards. "I remember going into my first day of class, and on my left I saw a CPA with a briefcase full of sharpened pencils. On my right was a nuclear engineer with 'log-log' paper. He always used to nudge me and get me to speak up in finance class."
After graduation, Professor John Colley introduced Edwards to Tom Duke (MBA '71), who hired her to perform business valuations for savings and loan institutions at Trident Financial Corporation.
Edwards' family has flourished in tandem with her career. Her oldest daughter was just nine months old when Edwards was recruited to create the investment bank at Friedman Billings Ramsey. Two decades later, she said she still works "with the hope that my children and grandchildren can benefit from the freedom I have enjoyed throughout my career."